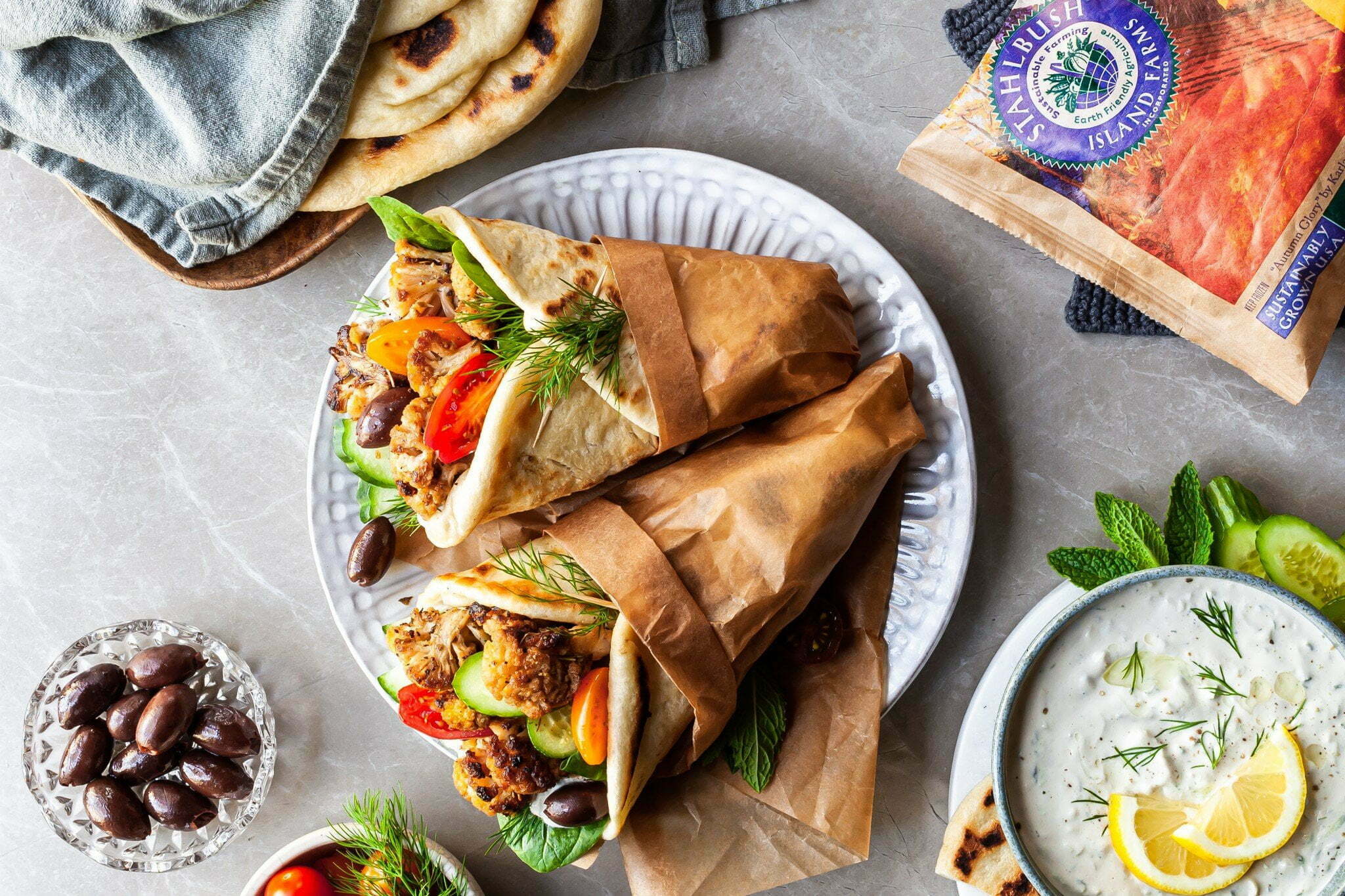 Vegan Cauliflower Gyros
Prep Time: 30 mins

Cooking Time: 35 mins

Total Time: 1 hr 5 mins

Servings: 4
3 tbsp extra virgin olive oil

1/2 tsp ground black pepper

pinch cayenne pepper, optional

1/2 small red onion, finely sliced

1/4 cup flat parsley or dill, roughly chopped
Defrost the cauliflower overnight in the fridge or a few hours at room temperature. Cut up any larger pieces so that the florets are all roughly the same size for even cooking. Drain the cauliflower and dry it as much as possible on paper towel or a clean tea towel if necessary. Place in a large bowl. In a small bowl, whisk together the ingredients for the marinade. Pour the marinade over the cauliflower and toss. Cover and marinate for a minimum of 30 minutes, but a few hours is best.

Preheat the oven to 425°F. Lightly oil a large baking sheet, or line it with parchment paper. Spread the cauliflower out on a baking sheet, ensuring there's space between each floret. Once the oven has preheated completely, place the cauliflower on a middle rack and roast for 25-35 minutes, tossing once halfway through. Prepare your toppings and tzatziki.

Assembling the Gyro Wraps:

Warm the flat-breads by wrapping them in foil and placing them in the oven during the last few minutes of roasting the cauliflower.

Layer the cauliflower, tzatziki, veggies and olives down the middle of a warm flatbread. Fold the sides of the flatbread over the fillings. Wrap in parchment or foil to help make things less messy if desired. Store leftover cauliflower, toppings and flatbread separately – these wraps are best assembled just before serving.