September 2, 2023
Summer's Never over when you have Stahlbush Frozen Berries!
Every berry is seasonal when you shop Stahlbush Island Farms! That's because we harvest our berries at the peak of ripeness and freeze them right on our farm. Since our berries don't have to travel thousands of miles to be processed, they taste sweeter and feel firmer than most. That's a difference we are proud of! So here are five amazing pie recipes that do these beautiful berries justice.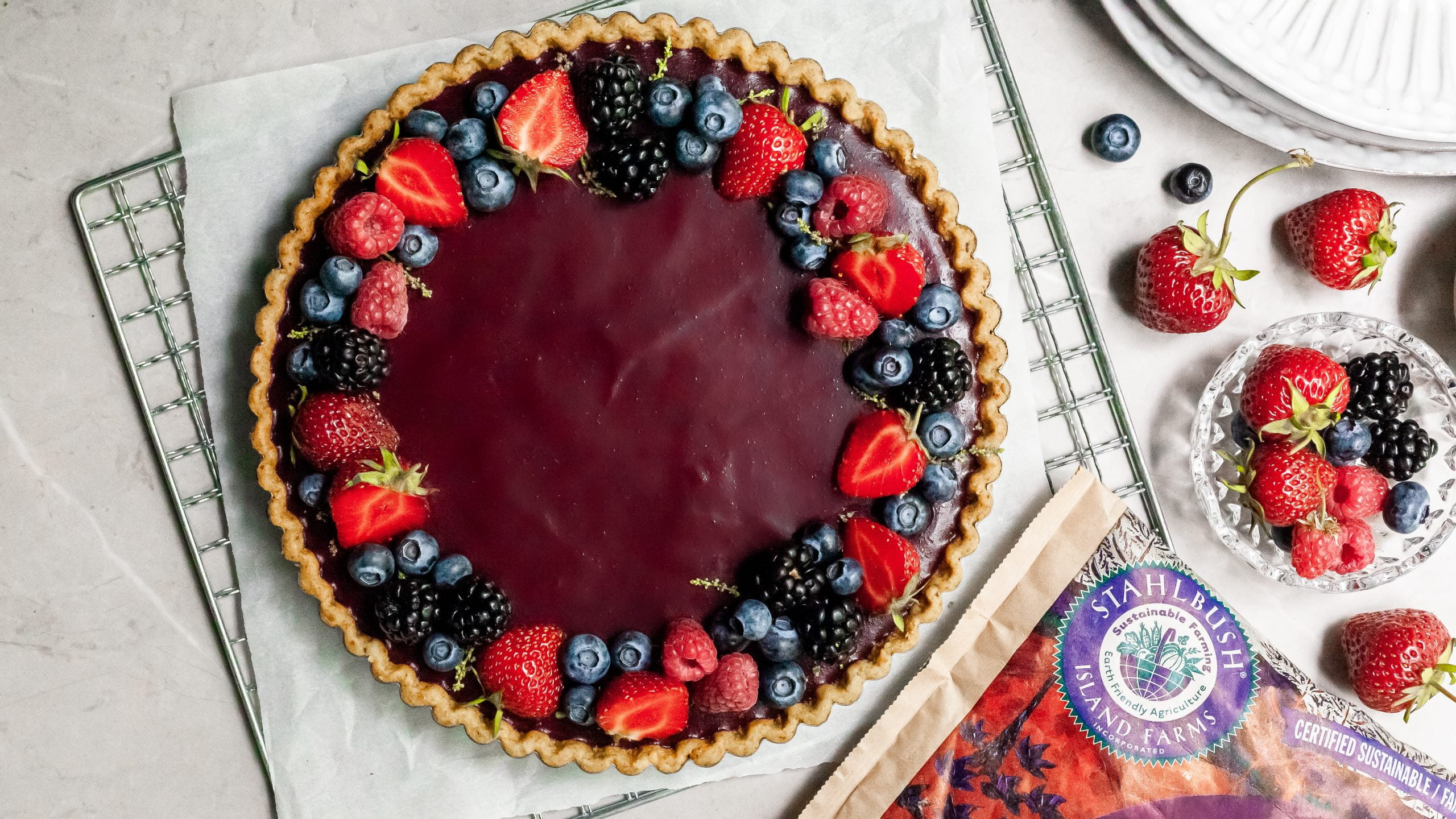 Vegan Berry Chocolate Tart
Is a tart a pie? Yes, of course it is! Because we had to include this gorgeous Vegan Berry Chocolate Tart in this list of amazing berry recipes. It's hard to believe a tart this gorgeous and delicious is vegan. What a time to be alive! It's layered with goodness from the pistachio shortbread crust to the white chocolate and berry curd layers. It's the berry best way to use our own Northwest Berry Blend, which has the perfect ratio of raspberries, strawberries, blueberries, and blackberries that the Pacific Northwest has to offer.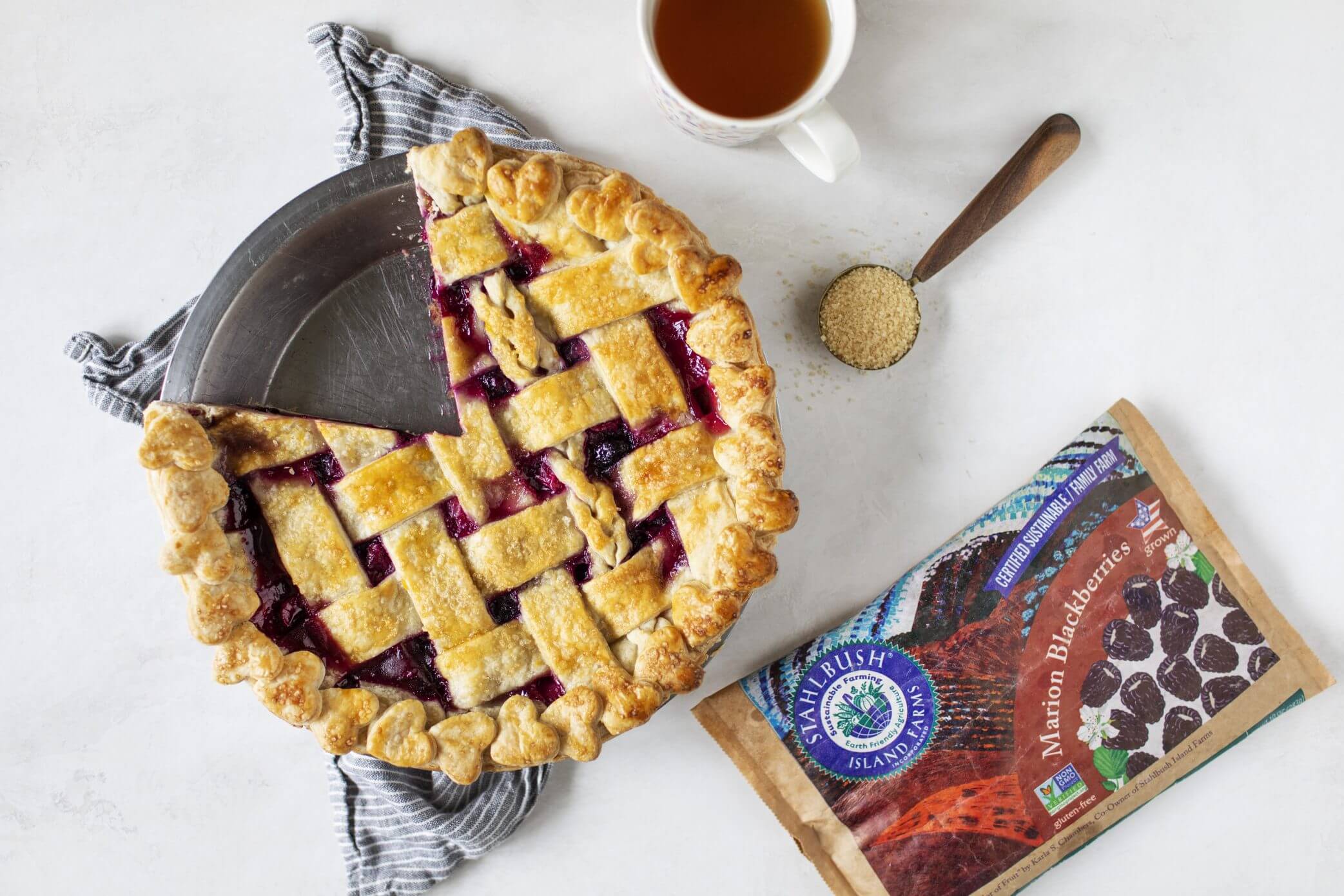 Marion Blackberry Rhubarb Pie
Next up, this Rhubarb Marionberry Pie. You can actually make it with our Marion blackberries or blueberries. Either way, it's quite delicious and unexpected. Most people put rhubarb almost exclusively with strawberries, so it's nice to have a new flavor combo for that summertime treat. A few pie tips: don't overwork the crust, and build up the edges to prevent shrinking. Always partake a pie crust that has a liquid filling like this one. You don't have to do a lattice, but why not try? They are so pretty, and even if it doesn't turn out it will still taste amazing.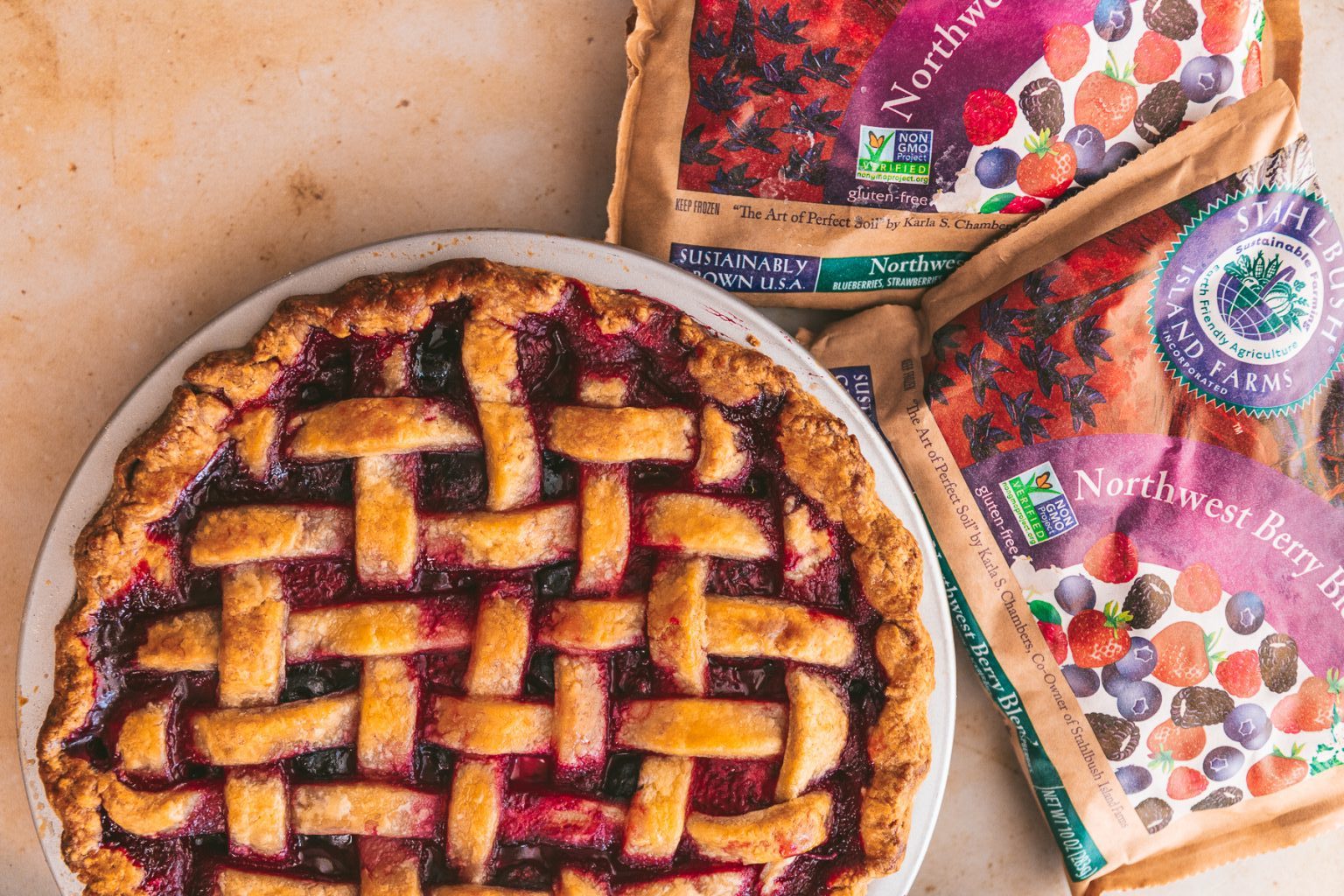 Northwest Berry Pie
This little pie has a big secret! And no, it's not our special blend of Pacific Northwest berries in our Northwest Berry Blend, but that's a good guess. Since they are picked at the peak of ripeness and quick-frozen right here on the farm, they are sweeter and more ripe than most frozen berries. But that's not it! There's a secret step to this pie that is going to make everyone ask you what you put in it to make it taste so special. But you can't tell them. It's a rule.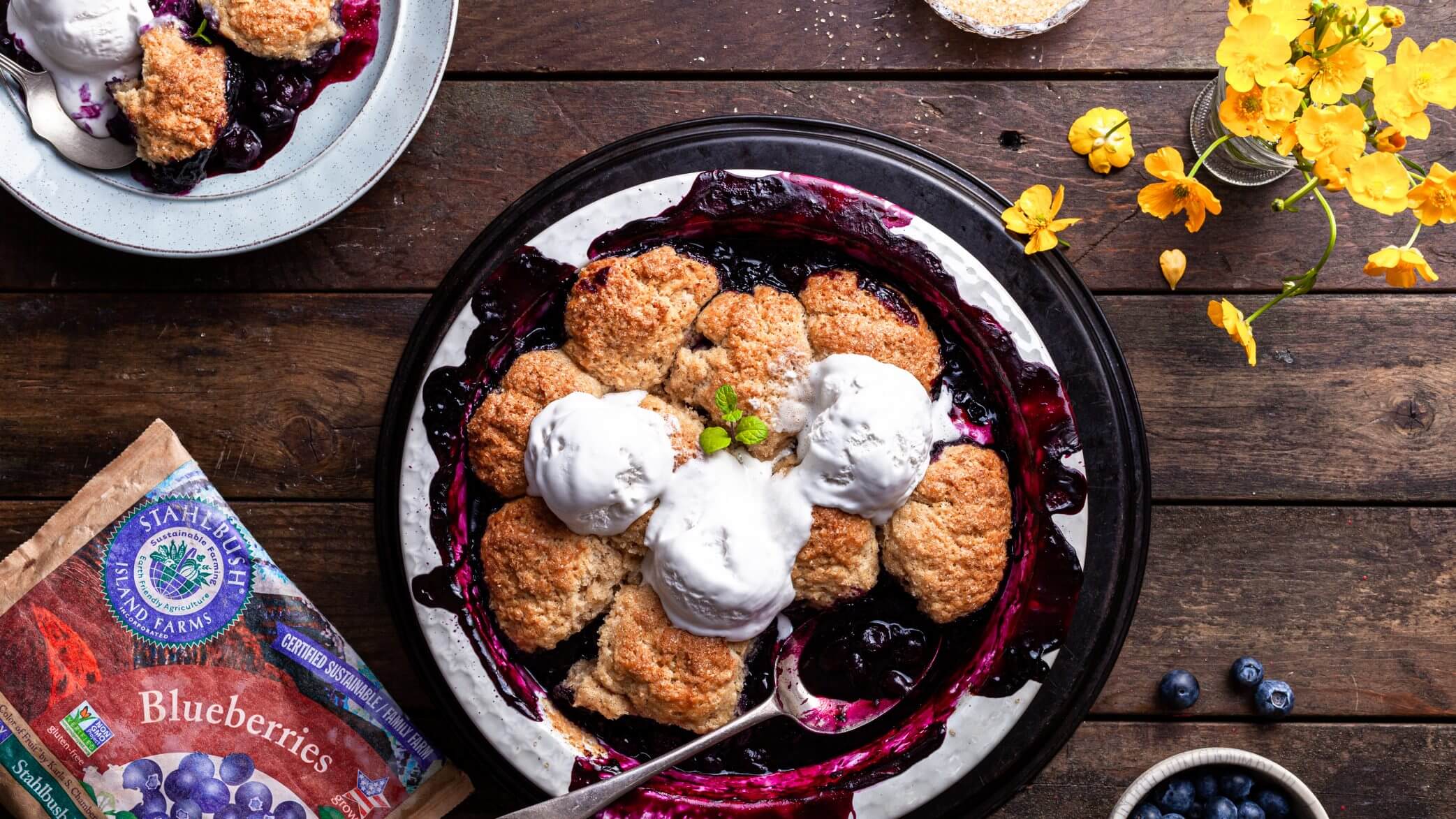 Easy Blueberry Cobbler
This Easy Blueberry Cobbler is super easy! It's also an easy recipe to modify for different dietary needs. It can easily be made vegan or gluten-free, which makes it easy to share with friends. We believe sharing with friends is the best thing about dessert, so that's kind of a dealbreaker for us. We like to share blueberries anytime we can, whether we are out at the farmer's market here in Corvallis or at home with our pets. Did you know dogs go nuts for our frozen blueberries? That's a fact.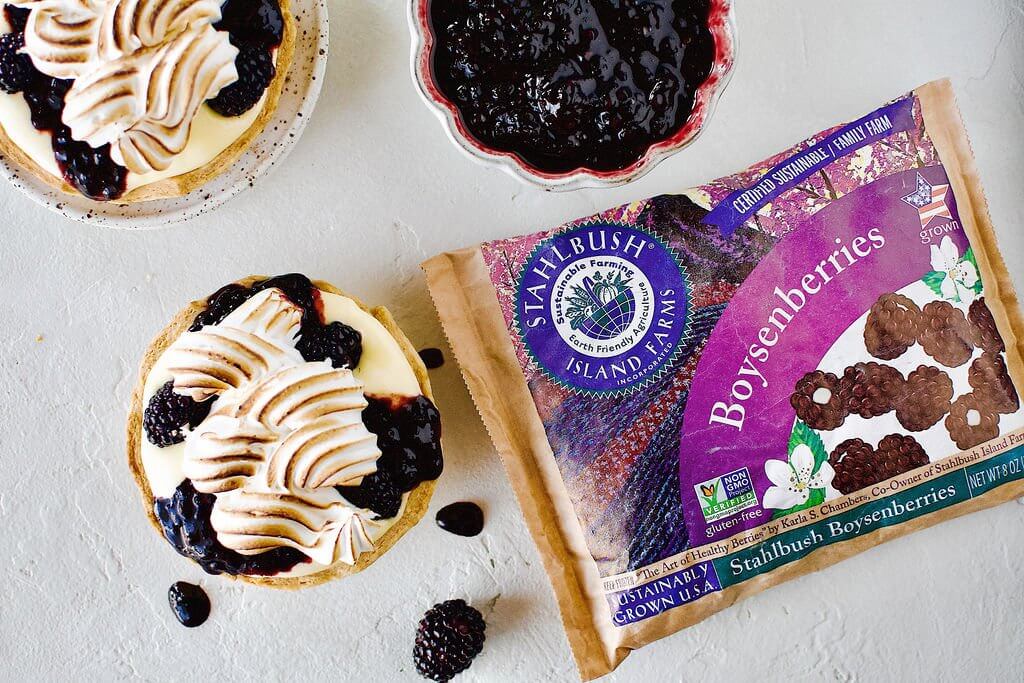 Blackberry Lemon Meringue Tarts
So first off, no, we don't grow the Boysenberries anymore–Sadness! But that said, this recipe is too good to throw out over that one small detail. Sub in our outstanding Marion Blackberries and you're good to go for these amazing berry lemon tarts. I love a good tart! Each one is its own little masterpiece, they're freezable, and you have total control over the portion size. Because having a pie with just a few slices out of it just won't fly around here. It's like an hourglass, bite after bite slipping away unnoticed until there are just a few scraps of crust and merengue left and no one knows what happened. Because if you don't get out a plate the bites don't count, right? I mean, that's what I heard.