Fourth of July Favorites
Five Great Recipes to Celebrate the Fourth!
June 23, 2023
Celebrations Start with Food
The summer holidays have such a different feel than fall celebrations–there's less pressure, everyone is more relaxed, there's not as much to do or that needs to be done. The point is kind of just getting together! It's just one of the many reasons we love summer. Summer is also a great time to bring dishes with fresh, seasonal ingredients, and the best way to always have the freshest produce on hand is to buy frozen! At Stahlbush, we process all our own products, so they are picked at the peak of freshness and processed right here on the farm. It gives us control over quality and allows us to keep our products top-9 allergen-free.
Here are five great options to bring to a summer picnic near you! These dishes travel well and show off the flavors of the season.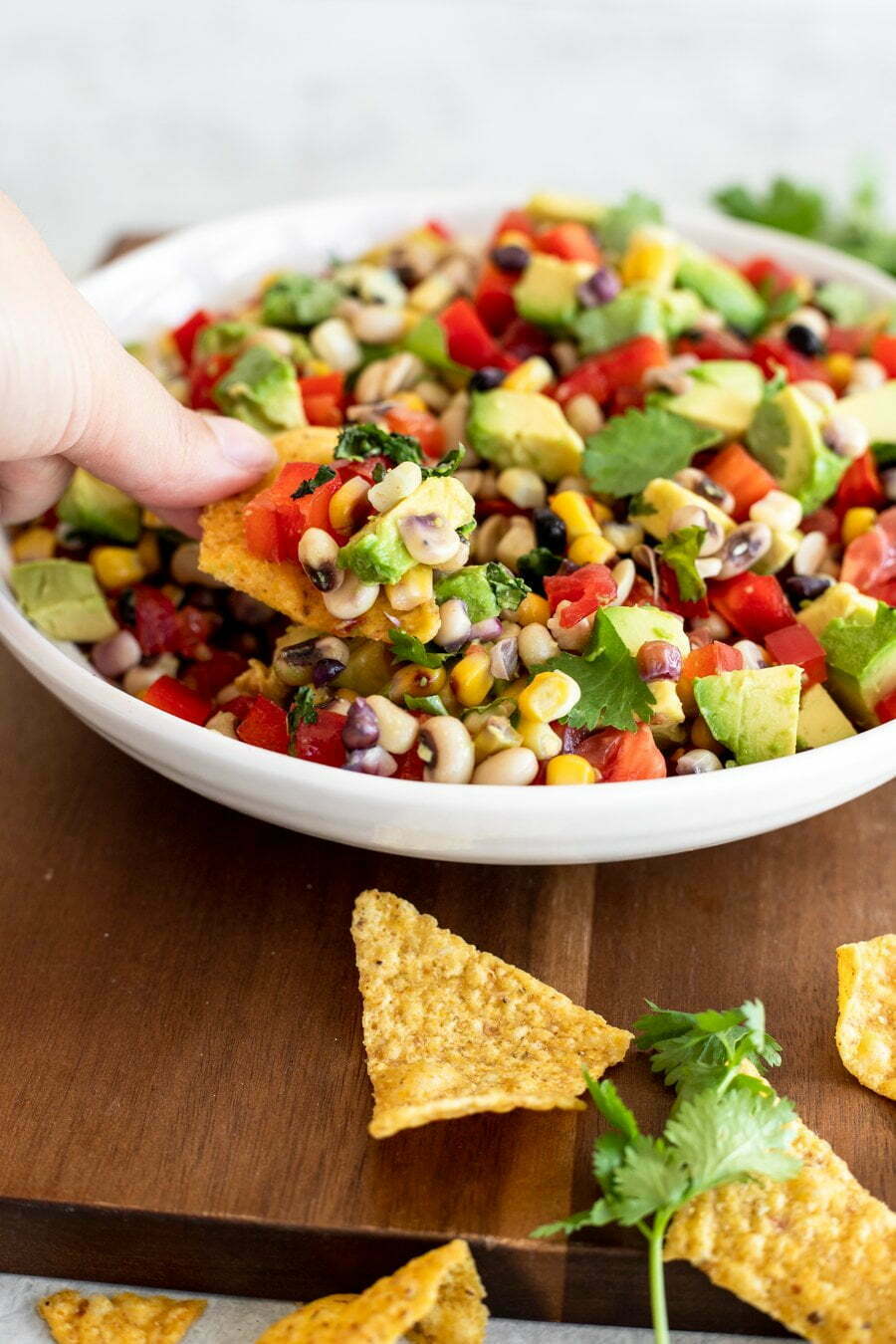 Game Day Dip
You definitely don't need to wait for game day to score with this great dip! It features a variety of veggies and beans and is great dressed up with sour cream and salsa or by itself with some quality corn chips.
1 bag

Stahlbush Crazy Corn

1 can Black-Eyed Peas, rinsed and drained

1 red onion, diced

6 Roma Tomatoes, diced

2 bell pepper, diced

1/2 cup cup chopped cilantro

2 avocado, diced

salt and pepper to taste
INSTRUCTIONS
Chop up tomatoes, onion, bell pepper, avocado and cilantro.
Heat the black-eyed peas and crazy corn in the microwave or on a stovetop to at least 160ºF.
Combine all ingredients in a bowl and add salt and pepper to taste.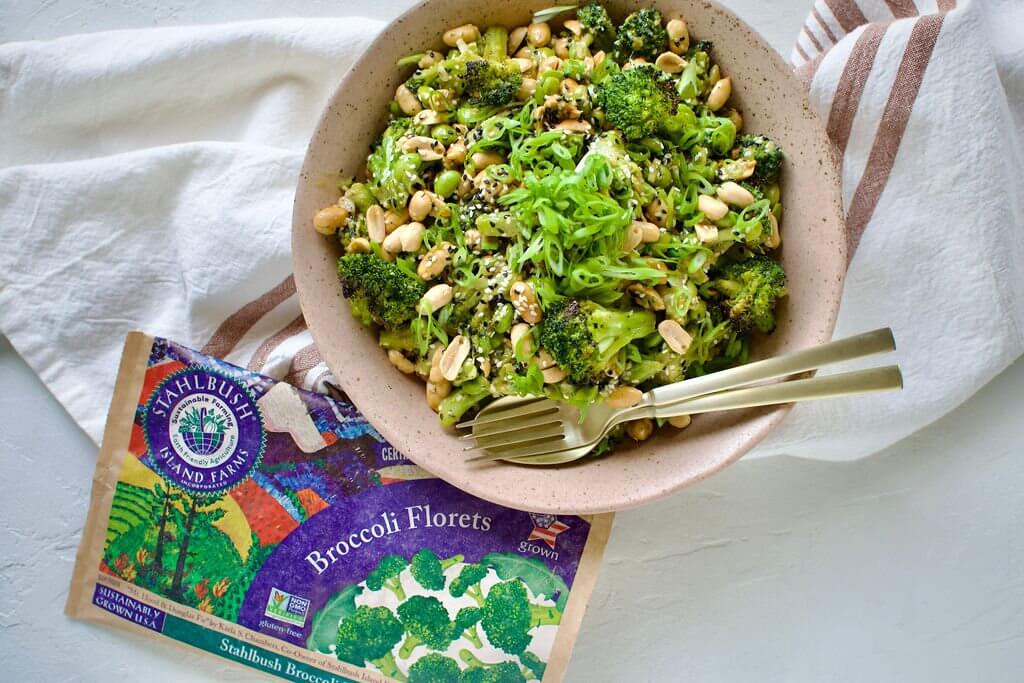 Roasted Broccoli Edemame Salad
This savory salad can be served warm or cool, and makes a great side with any protein, or can be a main dish for any vegetarians in the house! (They will love you for bringing a non-mushroom picnic option!)
2 bags Stahlbush Island Farms Broccoli Florets

1 1/2 cups Shelled Edamame, from frozen

Olive Oil, to toss

Kosher Salt, as needed

Fresh Cracked Black Pepper, as needed

1/3 cup Peanut Butter, can be natural

2 tablespoons Rice Wine Vinegar

1 1/2 tablespoons Tamari Soy Sauce

2 tablespoons Honey

1/4 teaspoon Toasted Sesame Oil

Hot Water, add a tablespoon at a time if needed to thin the sauce

1/2 cup Green Onions, finely chopped

2 1/2 cups Roasted Peanuts

Black and White Sesame Seeds, for garnish
INSTRUCTIONS
Preheat the oven to 450˚F.
Place the broccoli and edamame on a parchment-lined baking tray and toss with olive oil, salt, and pepper.
Roast in the oven until the broccoli begins to crisp, about 10-12 minutes. Broil if needed to get some browning. Remove from the oven and let cool for about 10 minutes.
In the bottom of a large bowl, whisk together the peanut butter, vinegar, tamari, honey, sesame oil, and water as needed to make a smooth sauce.
Add the roasted broccoli and edamame to the bowl, along with the green onions, peanuts, and sesame seeds. Toss to combine and coat in the sauce.
Top with more peanuts, green onions, and sesame seeds as needed for garnish. Serve Immediately.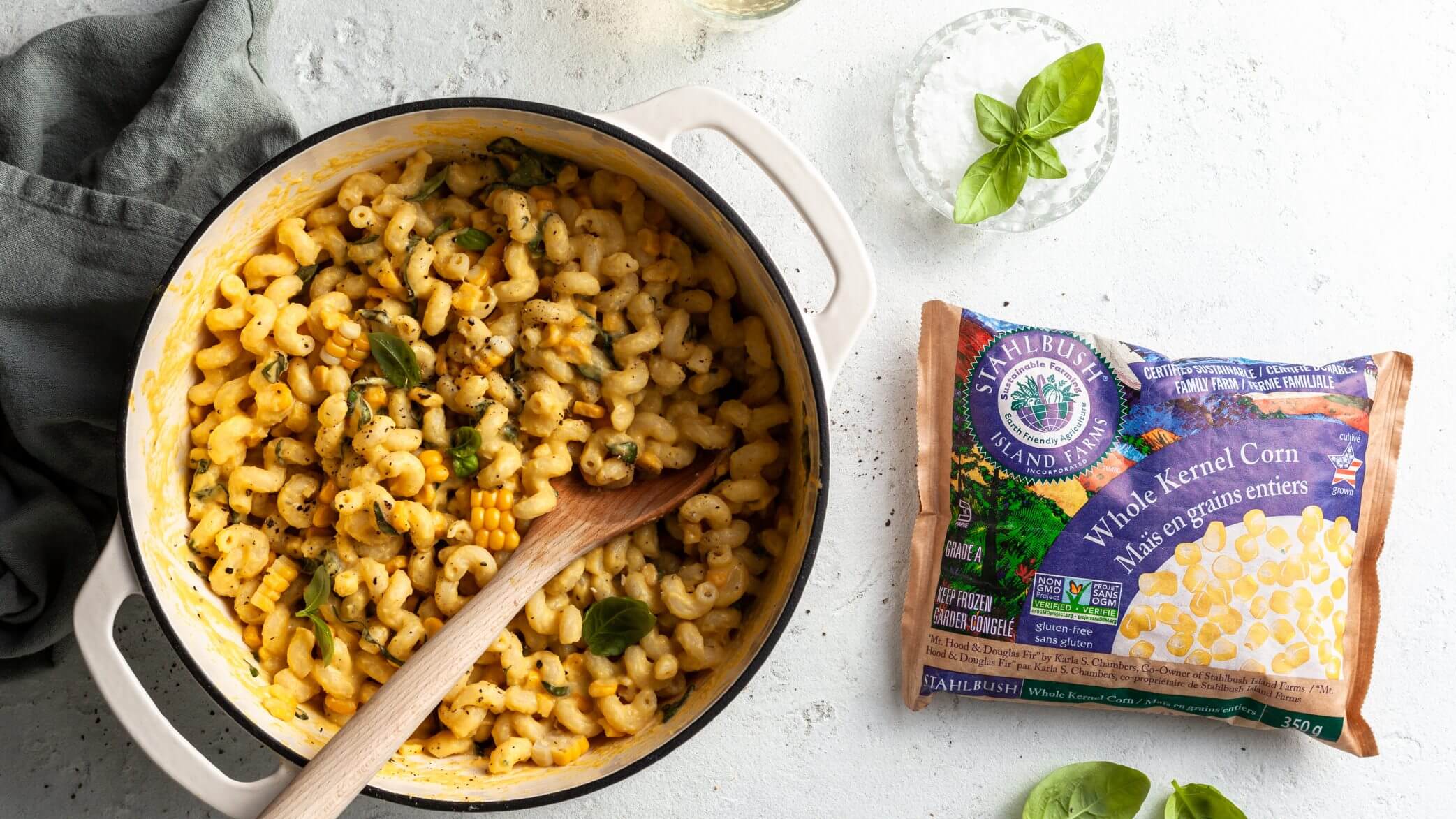 Creamy Corn Pasta
Bring corn off the cob to your next gathering with this savory pasta dish. It's corn, but elevated. Easily make it gluten free by subbing indoor favorite GF pasta, and it can be made as a vegan dish, too! Goes great on it's own or alongside just about any protein.
12 oz dry pasta

1 tbsp olive oil

1 medium onion, diced

4 garlic cloves, minced

¼-½ tsp crushed red pepper flakes (optional)

½ cup dry white wine (or vegetable broth)

4 cups Stahlbush Super Sweet Corn divided (See Notes for options)

2 tbsp nutritional yeast (or Parmesan, may use more to taste)

4 tbsp butter/vegan butter

2 tbsp lemon juice

1 cup loosely packed fresh basil, julienned

Salt and pepper, to taste
INSTRUCTIONS
Prepare the pasta according to the package directions. Reserve about 1 cup of the cooking
water before straining the cooked pasta.
In a medium-sized saucepan or skillet over medium heat, heat the olive oil. Add the
onion and sauté for 2-3 minutes or until softened.
Stir in the garlic and red pepper flakes (if using), and sauté for another minute. Pour in the white wine.
When it comes to a simmer, add in 2 cups (350 g) of the corn kernels. Reduce the heat and simmer for a minute or
two, until the corn is heated through.
Remove from heat, and pour in the lemon juice and nutritional yeast.
Add the corn mixture to a blender. Blend on high until completely smooth, scraping down the sides as needed. This may take a few minutes.
In the same skillet used to cook the first half of the corn, heat the butter over medium heat. Once melted and hot, add the remaining 2 cups (350 g) of corn kernels. Sauté for 2 minutes.
Remove from the heat and stir in the lemon zest.
Combine the creamed corn sauce with the drained, cooked pasta. Stir in the buttery corn kernels and basil. Add a splash of the reserved pasta water if the sauce needs to be thinned, or an extra squeeze of lemon juice to taste. (The sauce will thicken as it cools.)
Season with salt and pepper to taste and serve immediately.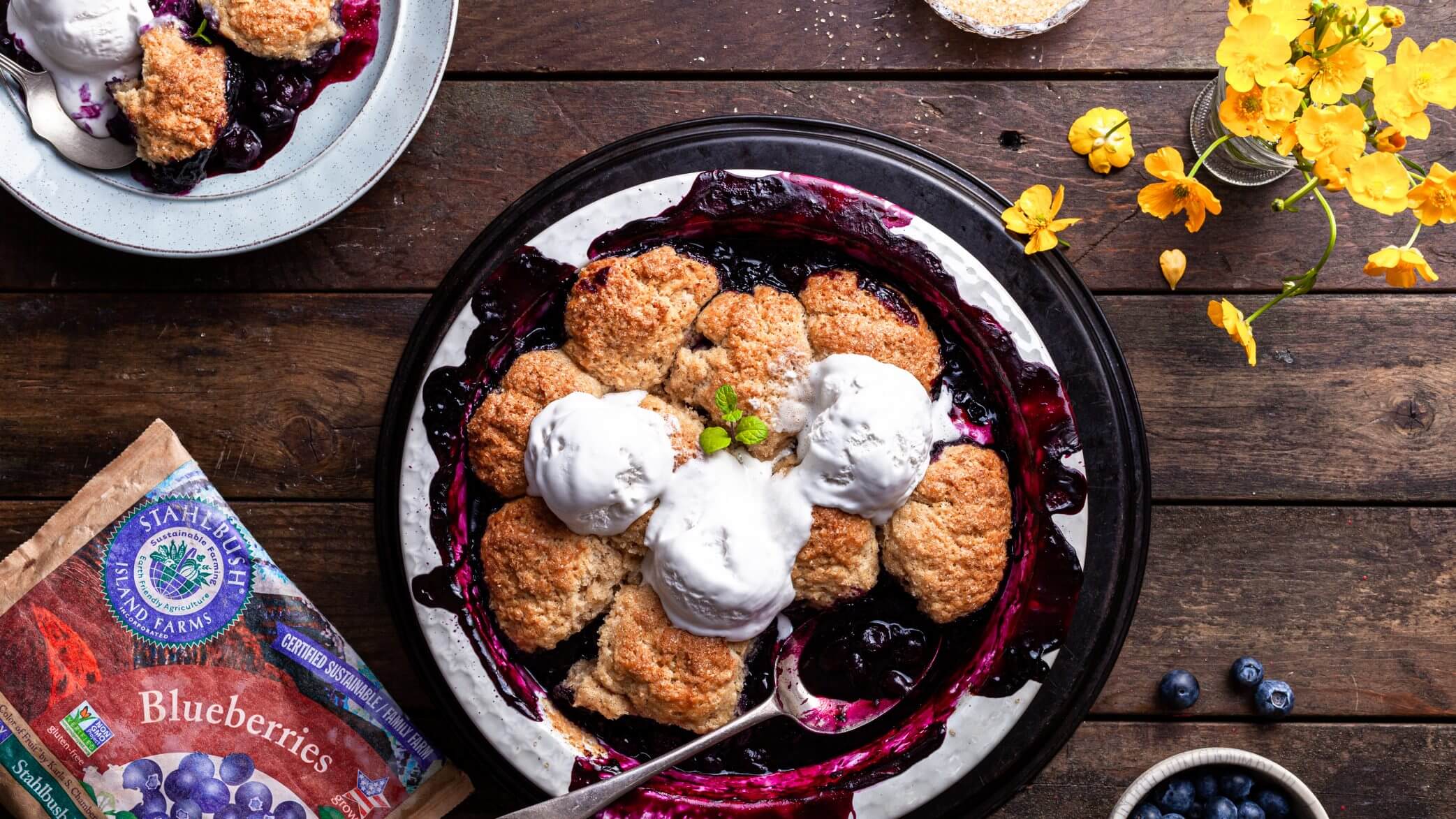 Easy Blueberry Cobbler
Oregon Blueberries are one of our pride and joys here at Stahlbush Island Farms, and this blueberry cobbler is the best way to showcase them. This recipe is easy to make and travels amazingly well. Just don't forget the ice cream!
For the Cobbler Topping:
1 ½ cups all-purpose flour

¼ cup granulated sugar

2 tsp baking powder

½ tsp ground cinnamon

¼ tsp salt

½ cup vegan butter sticks, cold

⅔ cup plant-based milk, cold

2 tsp vanilla extract

½ tbsp coarse sugar (e.g. turbinado)
For the Blueberry Base:
6 cups Stahlbush Island Farms' frozen blueberries (do not thaw)

¼ cup granulated sugar

3 tbsp cornstarch

1 tbsp lemon juice
INSTRUCTIONS
Cobbler Topping:
Preheat the oven to 375°F/190°C/gas 5.
In a medium bowl, sift the flour, sugar, baking powder, cinnamon, and salt together. Whisk well. Cut in the vegan butter using a pastry cutter or two butter knives, working it into the flour until the largest pieces of fat are about the size of peas.
Stir the vanilla into the milk in the cup you measured in. Add the vanilla milk to the flour mixture, and gently stir just until the dough comes together. Do not overmix.
Blueberry Base:
Place the blueberries into a 10" (25.4 cm) round baking dish or oven-safe skillet (see Notes for other baking dish size options). Toss the berries with the sugar, cornstarch, and lemon juice.
Assemble the Cobbler:
Scoop the biscuit batter all over the fruit – I use a large cookie scoop (3 tbsp/45 mL.) Keep in mind the larger the drop biscuits are, the longer they will take to bake through. Sprinkle coarse sugar over the biscuits.
Bake the cobbler for 45-65 minutes in the center of the middle oven rack, loosely covering with foil at around 35 minutes if the biscuits are browning already to prevent them from burning on top. For easy clean up, place an empty baking sheet or a layer of tin foil underneath the baking dish to catch any blueberry sauce spill over.
The cobbler is baked when the biscuits are cooked through (use a fork to gently lift one in the center to check for uncooked batter) and the blueberries are bubbling in the center. Serve warm with dairy-free ice cream or whip, if desired.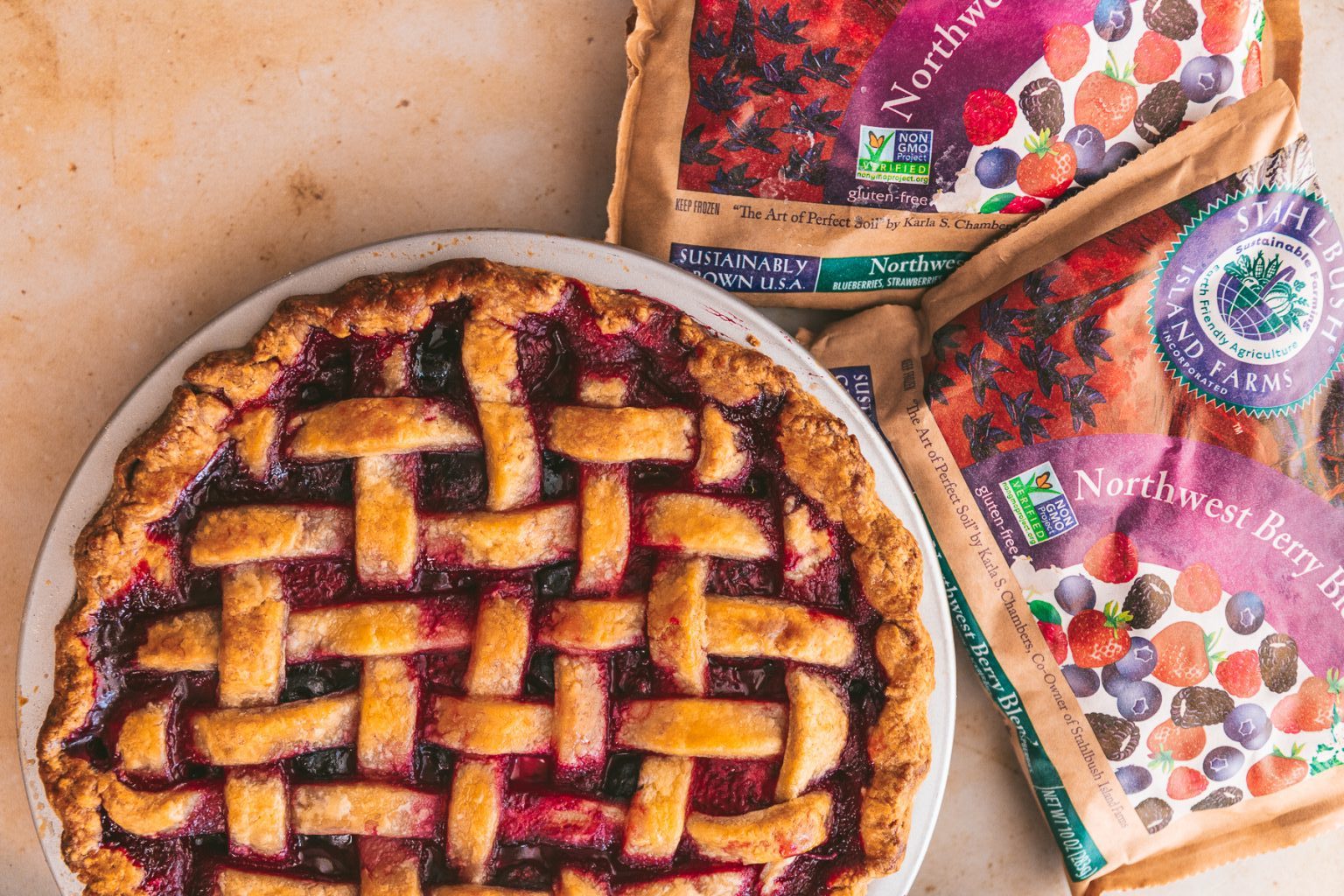 Northwest Berry Pie
This fantastic pie really shows off the flavors of the Northwest! Using our Northwest Berry Blend, this combines raspberries, blackberries, blueberries and strawberries in the perfect ratios to bring out that sweet berry flavor. The layer of almond paste at the bottom gives it that something extra that your guests will be asking about. Add a little ice cream and you have a red, white, and blue dessert.
INGREDIENTS
For the Crust:
3 cups all-purpose flour

1 tablespoon sugar

½ teaspoon salt

1 cup unsalted butter, chilled and cubed

1/3 cup buttermilk, cold

1 yolk plus 1 tablespoon water for egg wash
For the Almond Paste:
½ cup powdered sugar

½ cup almond meal

1 ½ teaspoon almond extract

1 egg yolk
For the Filling:
2 bags Stahlbush Island Farms' Northwest Berry Blend, frozen

1 cup sugar

½ cup flour

1/3 cup corn starch
INSTRUCTIONS
For the crust:
In a food processor, pulse the all-purpose flour, sugar, and salt together once.
Add in the cold, cubed butter and pulse just 3 times.
Pour in the chilled buttermilk and blend until the mixture starts to look golden and is crumbly. Turn out onto a clean work surface and kneed until it comes together. Cut the dough in half and form two disks. Wrap each with plastic wrap and set in the fridge to chill for 1 hour.
For the Almond Paste:
In a food processor, blend the ingredients together until a sticky dough forms. Place into a sheet of plastic wrap, cover and form into a disk. Place in the fridge to chill for at least 30 minutes.
Assemble the pie:
Preheat the oven to 425 degrees.
Roll out one of the pie disks into about a 10-inch crust and place it onto an 8-inch pie plate. Roll out the almond paste between two sheets of parchment paper and roll out into a disk the size of which will fit the bottom of your pie crust. Place on the bottom of the pie crust and place in the fridge.
Roll out the other pie crust and cut into 1/3-inch strips for the lattice.
In a large mixing bowl, combine the Northwest Berry Blend that has been slightly defrosted with the rest of the ingredients. Toss together and pour into the bottom of the pie plate including any of the excess dry ingredients.
Top the pie by creating a lattice with the remaining pie strips. Mix the egg yolk and water and brush on top of the crust.
Bake at 425 for 20 minutes then reduce the temperature down to 400 degrees and bake for another 50 minutes. Cover the pie with foil if the crust starts to turn brown.
Let the pie cool fully before serving.