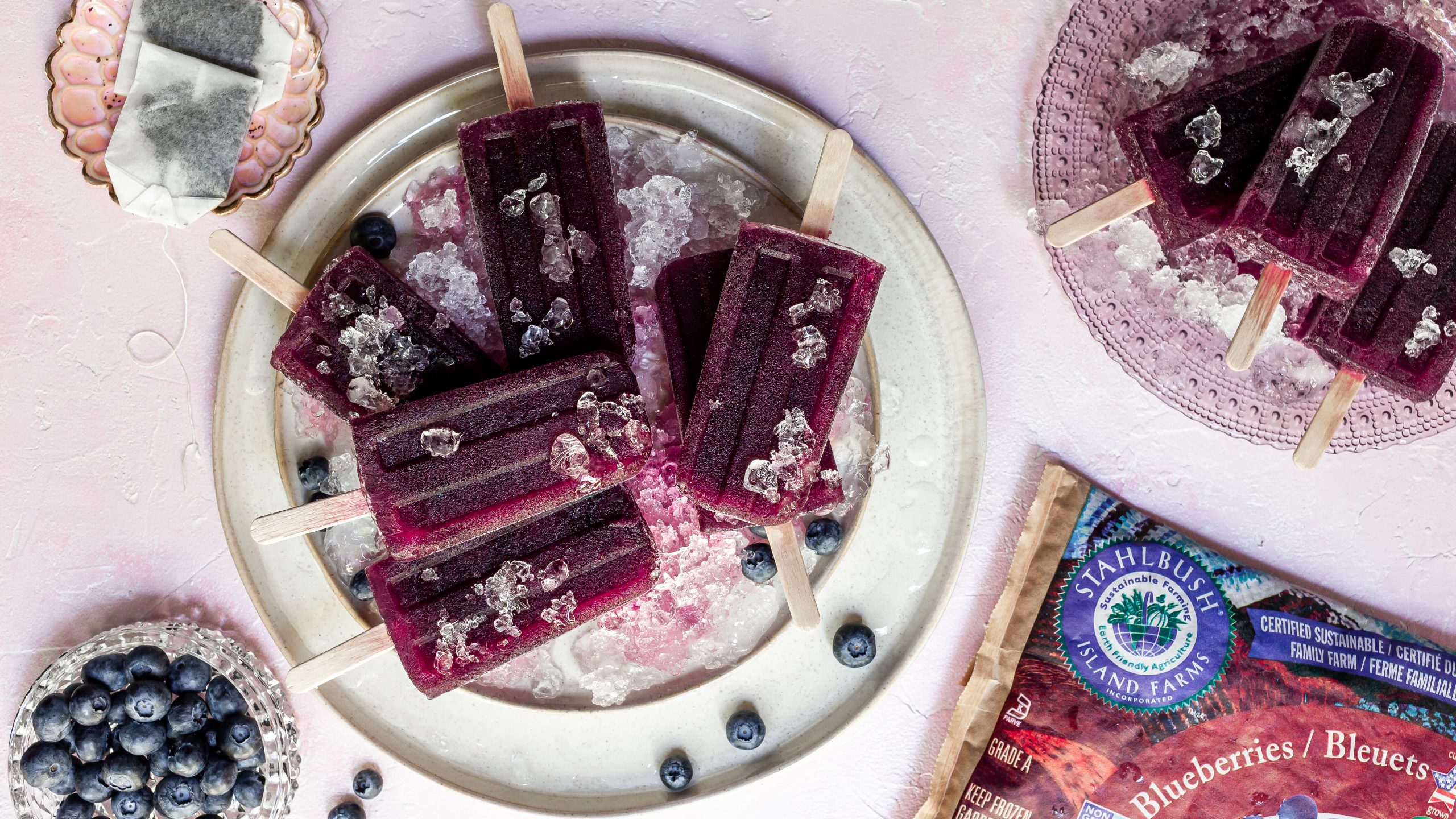 June 5, 2023
Whole-food popsicles with no dyes or artificial flavors
Popsicles are the perfect summer treat! But store-bought popsicles are often loaded with artificial dyes and artificial flavors–many of which are illegal in Europe and most other countries. Dyes like Yellow 5 and some of the other red, blue, and green dyes can cause ADHD-like behaviors, depression, and aggression in kids. That's why we love these homemade popsicle recipes featuring Stahlbush Island Farms berries! Not only are they made of all-natural ingredients and flavors, they are ready quickly, and don't require many steps to make. We hope making summer popsicles becomes a tradition in your family and helps inspires kids of all ages to get in the kitchen and have fun. Now, we know the last recipe isn't a popsicle, but it's so yummy we included it anyway!
Blueberry Earl Grey Popsicles
2 cups water
2 cups (1 bag) of Stahlbush Island Farms Blueberries
1/2 cup granulated sugar
2 Earl Grey tea bags (use decaffeinated if desired)
1 tsp vanilla extract
1/8 tsp salt
Combine the blueberries, water, sugar, and salt in a small pot over medium heat and bring to boil. Reduce the heat and simmer the berries for 2 minutes.
Remove from heat. Add the Earl Grey tea bags and steep for 3 minutes. Remove the tea bags from the pot.
Pour the mixture through a fine mesh sieve, a bit at a time over a bowl. Press the berries against the sieve with a large spoon to squeeze out their juices. Stir the vanilla into the blueberry Earl Grey tea. Let cool until safe to pour into popsicle molds.
Carefully fill your molds, leaving about 1/4 inch of room at the top as the popsicles will expand as they freeze. It's easiest and the least messy to use a jug or pitcher with a spout to do this. Wipe any excess from the top so that it doesn't freeze and make unmolding difficult. Add the popsicle sticks and freeze for at least 5 hours or overnight.
Makes 6-8 popsicles.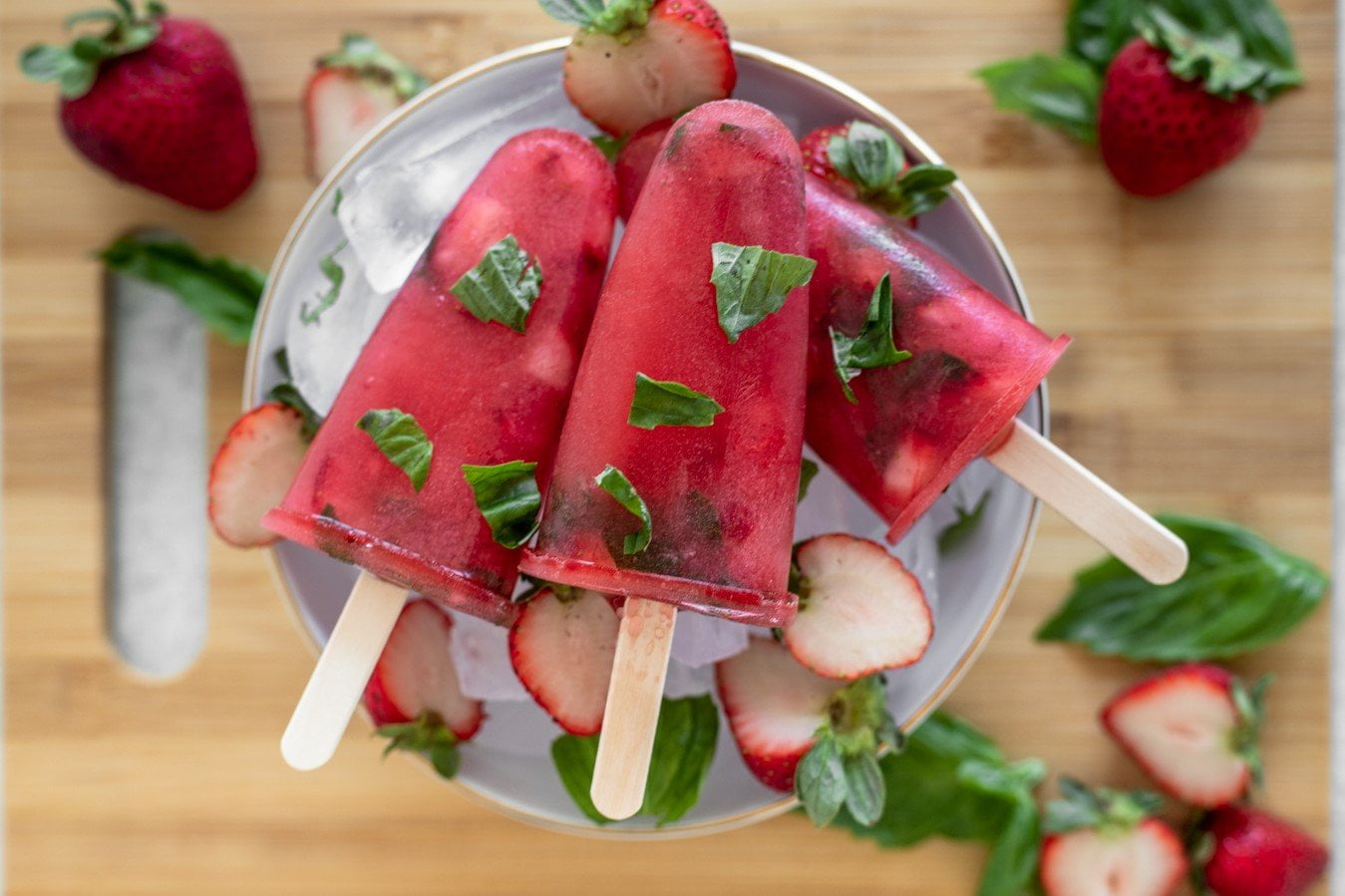 Strawberry Lemon Pops
3 (10 oz) bags of Stahlbush Island Farms frozen strawberries
1/2 cup sugar
1/2 cup water
1/2 lemon juiced
Instructions:
Combine strawberries and sugar in a bowl. Let it sit for about 30 minutes or until strawberries start to defrost and release their juices.
Add strawberry mixture and the water to a saucepan. Simmer for about 7-10 minutes or until the strawberries are nice and soft.
Transfer the mixture to a blender and add the lemon juice. Blend until smooth.
Let the mixture cool completely then pour into molds, leaving 1/4 inch space. Place in the freezer.
After about one hour, insert the sticks into the center of the molds. Freeze untouched for another 5 hours or until solid.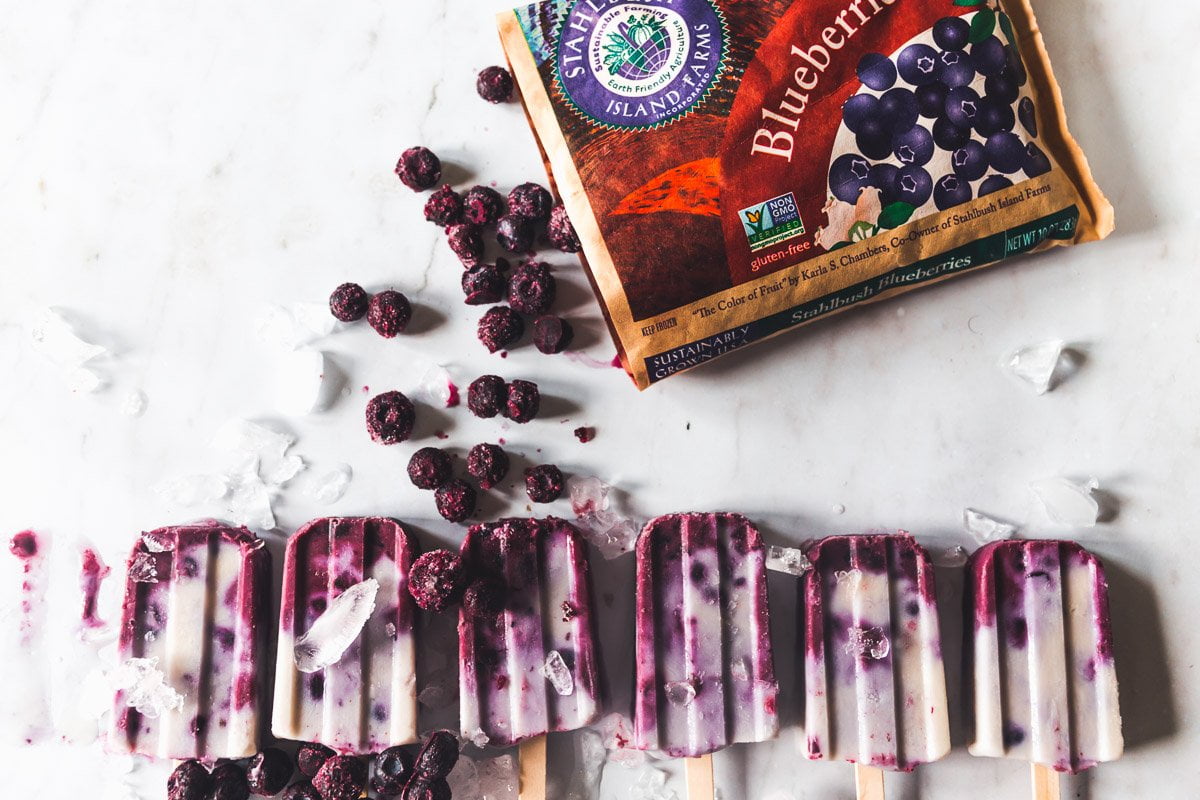 Blueberry Coconut Creamsicles
1 can coconut cream
1/3 cup maple syrup
1 tsp coconut extract
Pinch of salt
1 cup Stahlbush Island Farms frozen blueberries, slightly thawed
Mix the coconut cream, maple syrup, coconut extract, and salt together. Set aside.
Muddle the blueberries slightly. Add about 1/3 cup of the coconut mixture to the blueberries and mix.
Spoon a heaping tablespoon of the blueberry mixture into each popsicle mold then pour in the coconut mixture on top leaving about a half-inch space to expand.
Cover with foil and freeze for 30 minutes. Remove and push in the popsicle sticks. Place back in the freezer for at least 4 hours before serving.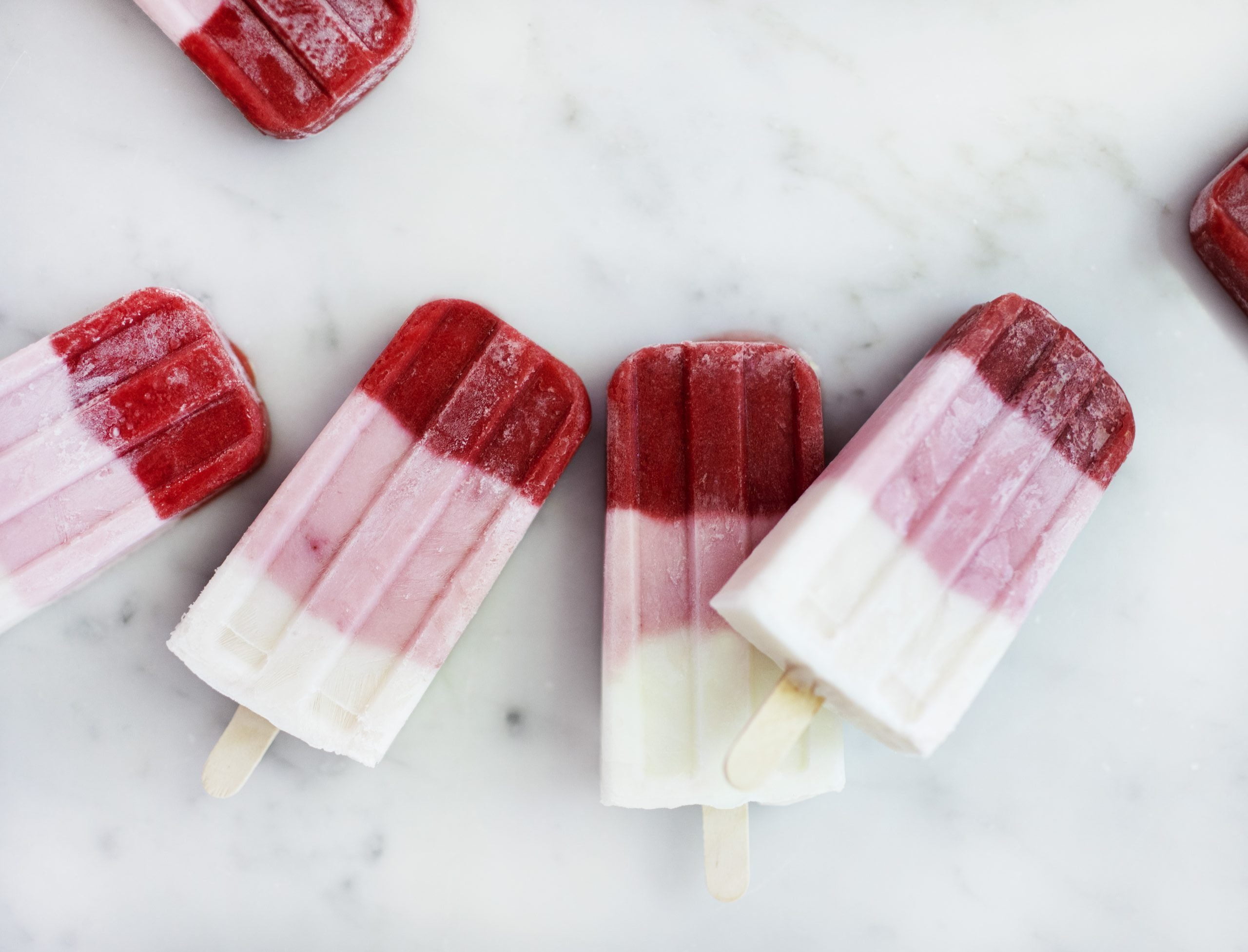 Roasted Strawberry Popsicles
For the Strawberry Layer
1 10oz package Stahlbush Island Farms Strawberries
2 tablespoons brown sugar
2 tablespoons balsamic vinegar
1 teaspoon pure vanilla extract
For the Strawberry Yogurt Layer
1 cup greek vanilla yogurt
1/4 cup roasted strawberry puree (recipe above)

For the Yogurt Layer
3 cups vanilla yogurt, full fat
1 teaspoon pure vanilla extract
1/4 cup pure maple syrup
Instructions:
For the Strawberry Layer
Toss strawberries in brown sugar, balsamic vinegar & vanilla.
Roast for 20 minutes at 375 degrees. Set aside to cool.
Place strawberries in a blender & puree until smooth.
Reserve 1/4 cup of the strawberry puree. Evenly divide the remaining mixture among 12 popsicle molds. Freeze for 15 minutes.
For the Strawberry Yogurt Layer
Mix vanilla cream with the roasted strawberry puree.
Pour the mixture into the popsicle molds filling them 2/3 of the way.
Freeze for 30 minutes.
For the Yogurt Layer
In a measuring cup whisk together yogurt, vanilla & maple syrup until well blended.
Evenly divide mixture among the 12 popsicle molds.
Place the popsicle sticks into the base & freeze overnight, about 6 to 8 hours.
Remove from popsicle molds & enjoy!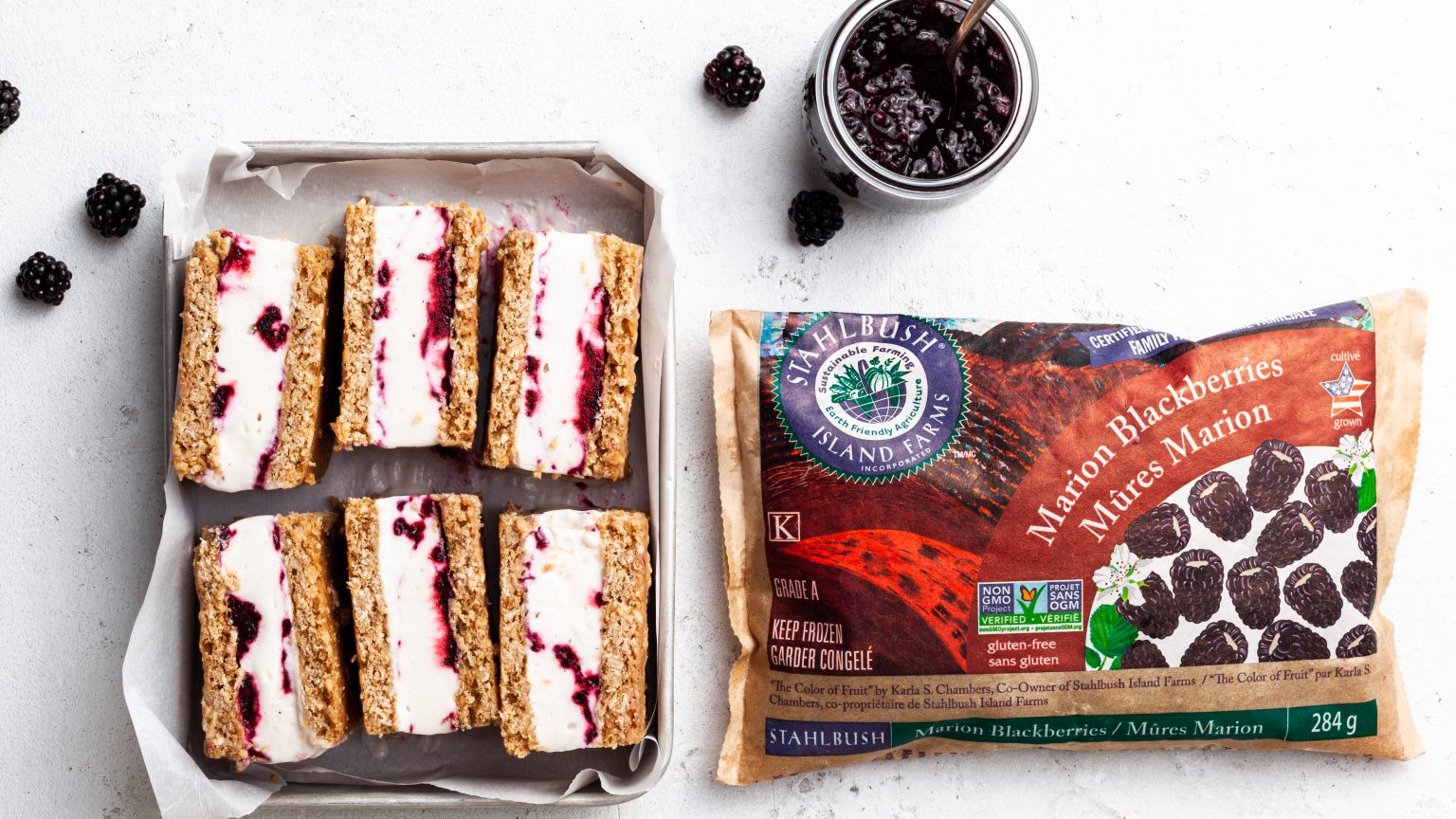 Oatmeal Berry Swirl Ice Cream Sandwiches
For the Oatmeal Cookie Layers:
2 cups quick-cooking oats
1 ½ cups all-purpose flour
1 ½ tsp baking powder
1 ½ tsp ground cinnamon
2 tsp cornstarch
1 tsp salt
1 ½ cup brown sugar
1 cup melted vegan butter (use stick style, not from the tub)
½ cup dairy-free milk
1 ½ tbsp vanilla extract
For the Berry Swirl:
2 cups Stalhbush Island Farms' Marion blackberries (or any other Stahlbush berry or berry blend!)
4 tbsp granulated sugar
1 tbsp lemon juice
1 tbsp cornstarch
2-3 pints of dairy-free vanilla ice cream, softened to spread (but not melted)
For the Oatmeal Cookie Layers:
Preheat the oven to 350°F. Lightly grease and line a half sheet (18 x 13-inch baking sheet with ~1-inch sides) with parchment paper – allow some overhang on two opposing long sides for handles.
In a medium-sized bowl, whisk together the oats, flour, baking powder, cinnamon, cornstarch, and salt.
In a large bowl (or stand mixer with paddle attachment), beat the sugar, melted butter, milk, and vanilla extract together until blended/emulsified. Add the dry ingredients to the wet ingredients, mixing well to combine.
Pour the batter into the prepared baking sheet, spreading it out evenly. Bake on the middle rack of the preheated oven for 10 minutes, or until the sides of the cookies are just starting to darken but the center still looks soft. Set the hot baking tray on a cooling rack until room temperature. Slice in half so you have two cookie bars, each measuring 9 x 13 inches. Cover the tray with foil or plastic wrap, and chill in the refrigerator or freeze until ready to use. Chilling/freezing makes it easier to move without breaking during assembly.
For the Berry Swirl:
Add the blackberries and sugar to a small pot over medium heat. Stir the mixture until it starts to boil. Reduce the heat to low and allow the filling to simmer for 5-8 minutes. You want the berries to release their juices and concentrate a bit, but you don't want them all to evaporate.
In a small cup, whisk the cornstarch and lemon juice together to make a slurry. Stir until the cornstarch is completely dissolved – any starch that is not dissolved will make lumps in your berries.
Over medium heat, whisk the cornstarch slurry into the hot berries. Whisk constantly to prevent burning and lumps from forming. Once the berry mixture is simmering, reduce the heat to low and cook one more minute so the cornstarch is fully activated. Remove from heat and pour the berry mixture into a bowl. Place a sheet of plastic wrap directly onto the hot fruit filling to prevent skin from forming. Refrigerate until completely chilled, about 2 hours or for up to 5 days if making ahead.
To Assemble the Ice Cream Sandwiches:
Line a 13 x 9-inch cake pan with parchment paper, leaving an overhang on the long edges. Place one half of the chilled cookie slab into the pan. Don't worry if the edges of the cookies aren't perfect, you can trim them later once fully assembled.
Loosely spread half of the softened ice cream over the cookie base – this does not need to be even or perfect looking, in fact, it's better if it isn't! Using a spoon, drop half of the chilled berry mixture over the first ice cream layer. Swirl the berries with the tip of a knife, or your spoon. Spread the remaining softened ice cream into the pan, and then the remaining berry mixture, swirling again. Do not overmix, or you'll be left with purple ice cream without swirls. Level the top with an offside spatula, or the back of a large spoon. Top with the second oatmeal cookie slab, and press down very gently and evenly to eliminate air gaps. Quickly cover with plastic wrap or foil and freeze until set. This will take 3-8 hours depending on how cold your freezer is and how soft the ice cream was as you worked with it.
Using the parchment paper handles, lift the ice cream bars out of the pan and place them on a cutting board. Peel the parchment down from the sides of the ice cream sandwich. Using a large, sharp knife, cut into 16 rectangles, and enjoy! Leftovers should be wrapped in plastic or parchment, placed in an airtight container, and kept frozen for up to a few months.