Celebrating Summer Berries: Menu + Recipes
Oregon is a paradise known for its berries. Stahlbush only grows the finest varieties suited specifically to the Pacific Northwest.
September 13, 2018
Celebrating Our Summer Berries
Here at Stahlbush, our summer growing season is almost at its end. The nights are getting cooler and the starting later, which means our beloved berry season is almost over! Although the air no longer smells of sweet berries, our favorite summer flavors can be enjoyed all year round. To celebrate the end of summer, we've teamed up with Oregon Berries to bring you our Celebrating Our Summer Berries Menu + Recipes, chock-full of delicious recipes featuring our frozen berries! Enjoy these recipes now (or later!) to indulge in the best of our summer berries.
Appetizer
Raspberry + Mango Lime Salsa
Ingredients:
1/4 cup Red Onion, minced
1/4 cup cilantro, minced
1 jalapeño, minced
1-2 limes
2 cups frozen raspberries
1/2 cup mango, chopped.
Preparations:
Combine all ingredients except mango in a mixing bowl.
Stir until raspberries begin to break apart.
Add mango chunks last, stirring gently but not too much so the bright orange color is still apparent.
Enjoy!! Serve with plantain or corn chips, or with fish
Starter
Marion Blackberry Vinaigrette with Salad
Ingredients:
1 bag Stahlbush Island Farms Marion Blackberries, thawed
1/4 cup shallot, chopped
1/4 cup extra-virgin olive oil
1 teaspoon balsamic vinegar
1 teaspoon honey
1 teaspoon dried thyme
Salt and Pepper to taste
Preparations –
Add marionberries to a blender and blend until smooth.

If you don't like seeds, strain the puree through a sieve and discard the solids. Make sure you have one full cup of puree remaining.

Return the puree back to the blender and add other ingredients. Blend until smooth. 

Drizzle on top of an arugula, or other hearty green. We love topping with cucumber, red radishes, walnuts, and goat cheese.
Drinks
Sparkling Strawberry Sipper
Ingredients:
1 bag Stahlbush Island Farms Strawberries

1 cup water

1/2 lemon

1/3 cup simple syrup

Mint for garnish

Sparkling water
Preparations:
Combine the strawberries, simple syrup, water, and lemon juice in a blender. Blend until smooth.
Pour mixture into glass until about half the glass is full, then top with sparkling water.
Mix well and garnish with mint.
To make simple syrup, bring 1 cup water to a boil and add 2 cups sugar. Stir until dissolved, about 5 minutes.
For a grown-up version, substitute sparkling water with vodka or champagne.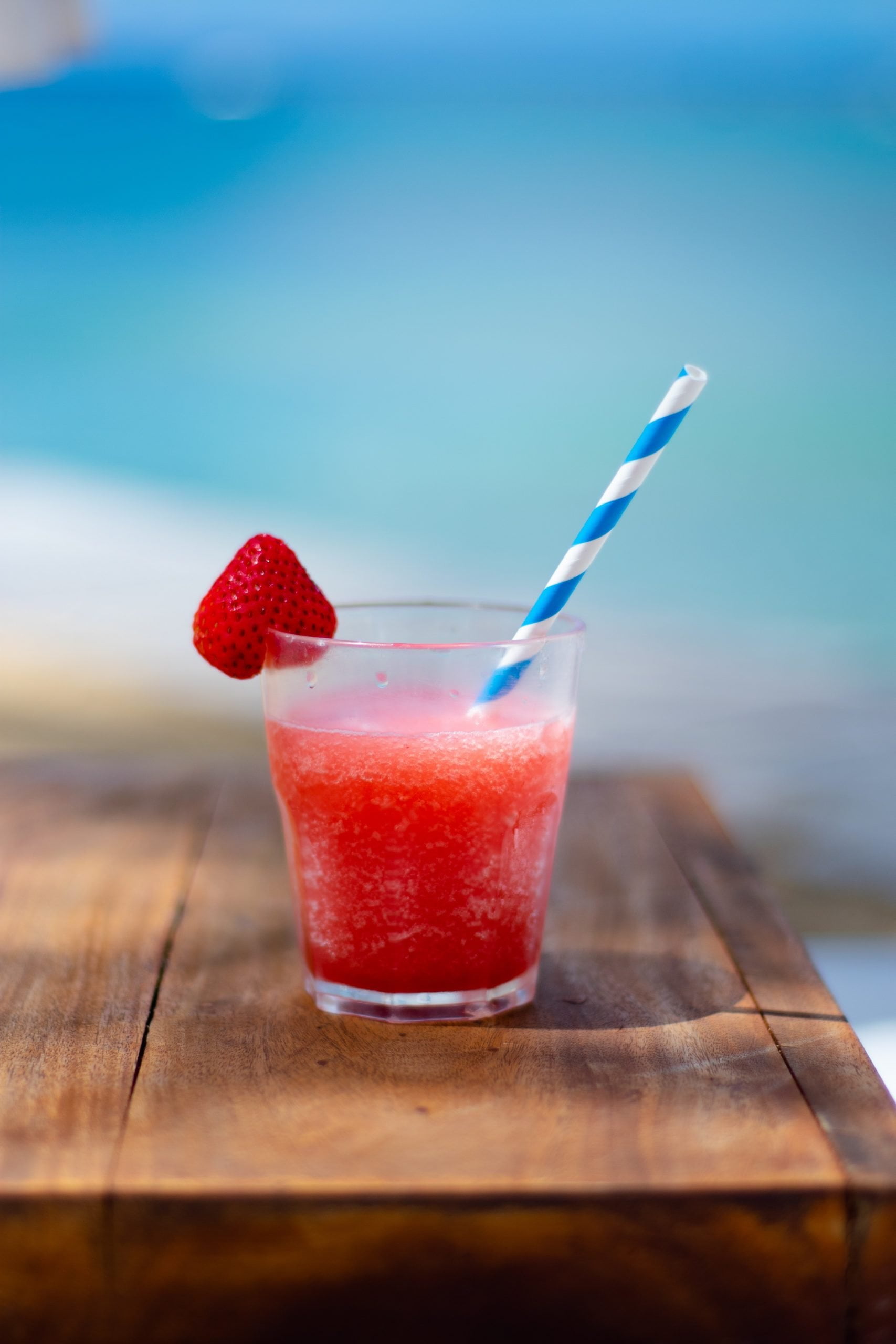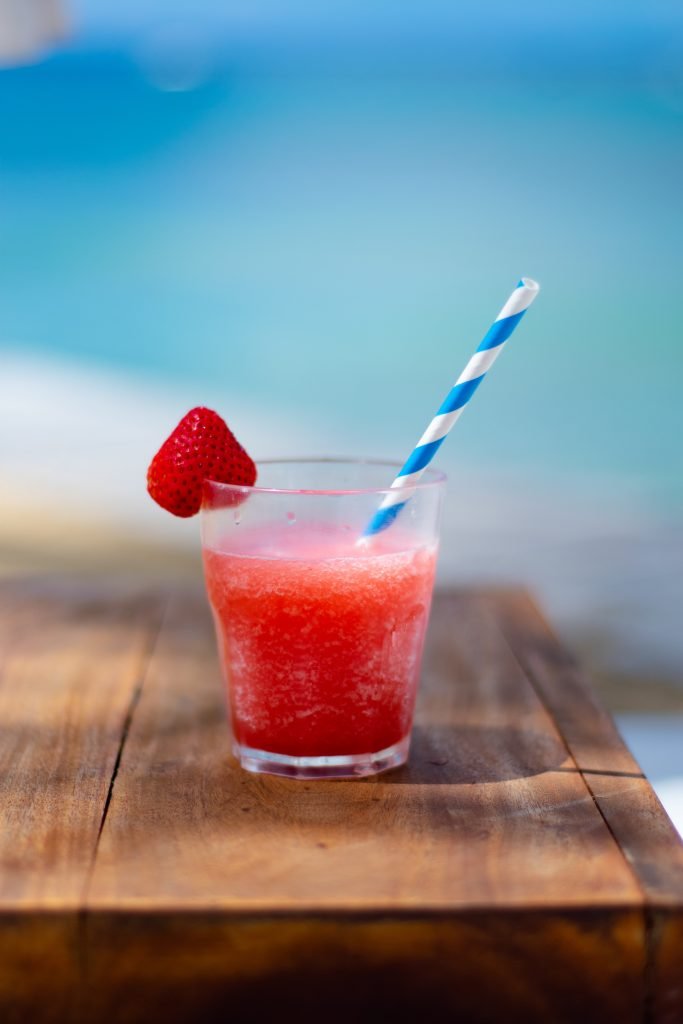 Main Dish
Blackberry Gruyere Grilled Cheese
Ingredients:
4 slices soft seeded bread
1/2 cup thawed frozen Marion Blackberries, roughly mashed with a fork
1 teaspoon fresh thyme leaves
4 oz. Gruyere, shredded
2 tablespoons honey, plus more for serving
1 tablespoon butter, divided
Preparation
Divide mashed berries between 2 slices of bread, then divide thyme, Gruyere, and honey between the sandwiches. Top with remaining bread.
Melt ½ tablespoon butter in a medium skillet over medium heat. Add one sandwich and cook, flipping once, until golden brown on both sides. Cook remaining sandwich. Drizzle with more honey and serve.
Dessert
Blueberry Buttermilk Scones
Ingredients:
1 1/2 cup all purpose flour 

1/2 cup cake flour 

3 tablespoons granulate sugar 

2 1/2 teaspoons baking powder 

3/4 teaspoon salt 

1 stick cold, unsalted butter, cut into small pieces 

1 cup Stahlbush Island Farms Blueberries 

1/2 cup low-fat buttermilk 

1 large egg, plus 1 large egg lightly beaten for egg wash 

1/2 teaspoon pure vanilla extract 

Sugar, for sprinkling
Preparations:
Preheat oven to 375 degrees. Line a baking sheet with parchment paper.

Whisk together flours, granulated sugar, baking powder, and salt in a large bowl. 

Cut in butter with a pastry cutter, or rub in with your fingers, until mixture is combined but lumpy. Stir in blueberries. 

Whisk together buttermilk, 1 egg, and vanilla. Drizzle this mixture over flour mixture, and stir lightly with your fingers or a fork until dough comes together. 

Gently knead dough once or twice just to incorporate flour. 

Pat dough into a 1 inch thick round cut. Cut into 12 circles.

Transfer to a prepared baking sheet. Brush with egg wash, and sprinkle with sugar. 

Bake until golden brown and cooked through, about 22 minutes.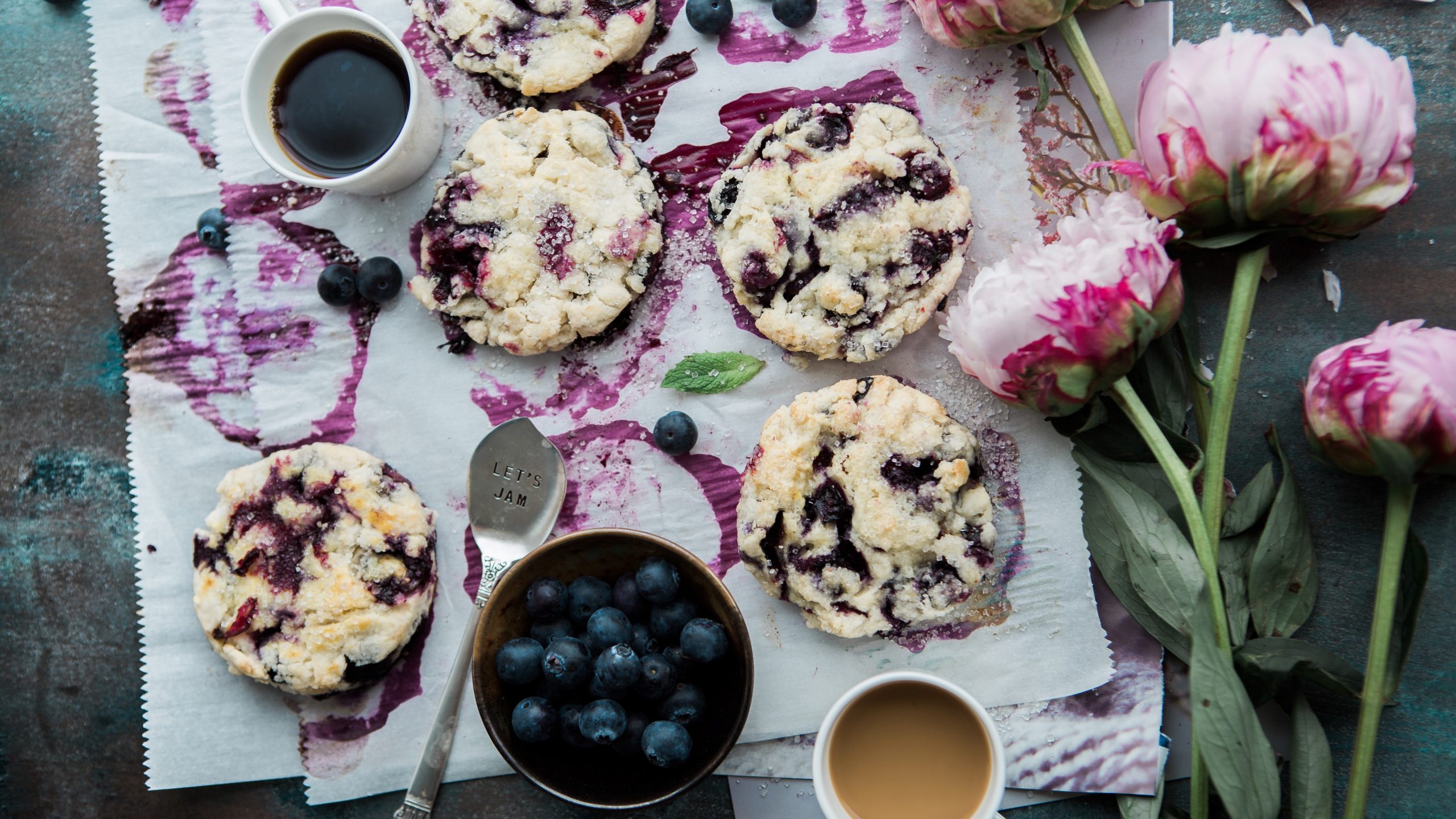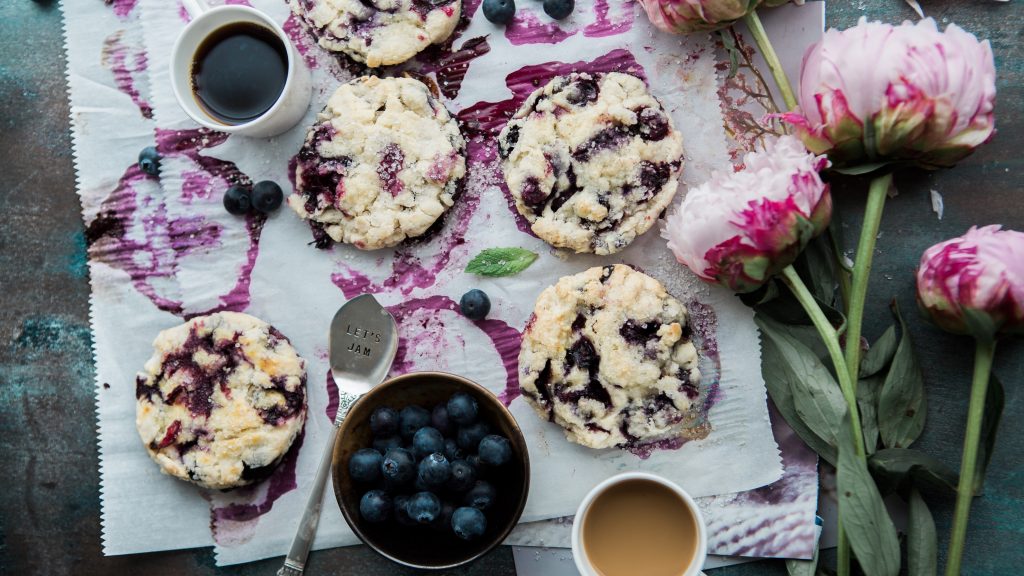 Dessert
Gluten-Free Cheesecake with Boysenberry Drizzle
Ingredients for Crust:
1 1/2 cups ground walnuts
3 tablespoons butter
2 tablespoons white sugar
Ingredients for Cheesecake:
8 oz. cream cheese room temperature
1/2 cup sugar
1/2 teaspoon vanilla extract
Dash of salt
2 large eggs
Topping
1 cup sour cream
2 tablespoons sugar
1 teaspoon vanilla
Boysenberry Sauce:
1 bag Stahlbush Island Farms Boysenberries
1/4 cup sugar
1/4 cup water
1/2 teaspoon lemon zest
2 teaspoons cornstarch
Preparations for Crust:
In a medium mixing bowl, combine all ingredients.
Press the nut mixture firmly into bottom and sides of a 9 inch pie plate.
Bake at 325 degrees for about 10 minutes, or until the edges are golden brown.
Cool before adding the filling.
Preparations for Cheesecake:
In a medium bowl, beat cream cheese. Gradually add sugar, vanilla, and salt.
Add eggs one at a time, beating after each addition and scarping down sides of bowl, beat for one minute.
Pour into crust and bake for 35 minutes at 325 degrees.
Preparations for Topping:
Combine all ingredients in a medium bowl.
Remove cheesecake and spread topping on top.
Bake at same temperature, until topping is set. 10 minutes or longer. Let cool on wire rack then cover and refrigerate overnight.
Preparations for Boysenberry Sauce:
In a saucepan over medium high heat, combine all ingredients and cook stirring constantly until thickened.
Let cool to room temperature before serving. Enjoy!