Black-Eyed Peas & New Year's Day
It's a southern tradition to eat black-eyed peas on New Year's Day. It's said to bring luck in the new year. Here's a great recipe to enjoy black-eyed peas.
Sausage Gumbo
Recipe courtesy of Ivy Manning and featured in her cookbook, "Easy Soups from Scratch with Quick Breads to Match"
1/2 cup [70 g] all-purpose flour
1/2 cup [120 ml] safflower oil
1 large yellow onion, finely chopped
1 large green bell pepper, seeded and chopped
3 celery stalks, thinly sliced
7 medium garlic cloves, thinly sliced
1 Tbsp Cajun seasoning
5 cups [1.2 L] chicken or vegetable broth (see page 17)
3 cups [540 g] frozen or homemade black-eyed peas (see page 19)
12 oz [340 g] smoked turkey or pork sausage links, cut into bite-size pieces
2 cups [230 g] frozen sliced okra
1 Tbsp apple cider vinegar
2 tsp filé powder
Sea salt
Freshly ground black pepper
Hot sauce, for serving
In a microwave-safe glass measuring cup with a 4-cup [960-ml] capacity, whisk together the flour and 1/4 cup plus 3 Tbsp [105 ml] of the safflower oil. Microwave on high for 3 minutes, and then use an oven mitt to remove the measuring cup from the microwave and whisk the mixture; be very cautious, because hot roux can cause severe burns. Return the measuring cup to the microwave and cook on high, whisking every minute, until the mixture is the color of an old copper penny, from 31/2 to 7 minutes, depending on your microwave.
While the roux cooks, heat the remain­ing 1 Tbsp of the safflower oil in a large soup pot or Dutch oven over medium heat. Add the onion, bell pepper, and celery and sauté, stirring frequently, until the onion is translucent, about 8 minutes. Add the garlic and Cajun seasoning and sauté until fragrant, about 1 minute. Carefully pour the hot roux into the pot and stir to coat the vegetables.
Add the chicken broth, black-eyed peas, and sausage to the pot. Cover, bring to a simmer, and reduce the heat to medium-low. Simmer, stirring occasionally, for 10 minutes. Add the okra, reduce the heat to low, and simmer gently, uncovered, until the okra is tender, about 10 minutes. Remove the pot from the heat, add the vinegar and filé powder, and stir to com­bine. Season with salt and pepper.
Ladle the gumbo into bowls and serve immediately, with a bottle of hot sauce at the ready.
GET AHEAD: Let the roux sit at room temperature in the measuring cup until completely cool, and then pour it into a container with a tight-fitting lid (I use a canning jar). Store in the refrigerator for up to 2 weeks. Before using, whisk the roux thoroughly. The soup can be prepared up to 2 days in advance and reheated gently; add a bit of warm broth if needed to adjust the consistency.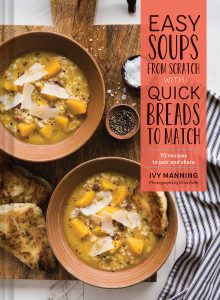 Published by Chronicle Books in 2017.