A Sumptuous Palette at Gallery 444 | Art and Farming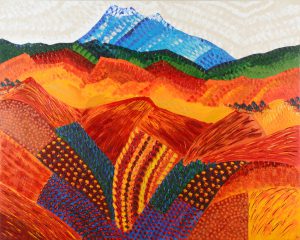 On December 2nd, our co-owner Karla Chambers presented a new body of work in a solo exhibition at Gallery 444 in San Francisco. The show included new paintings that are inspired by aspects of her everyday life in the rural Willamette Valley in Corvallis, Oregon. The paintings present landscapes that direct the viewer to gaze upward to the changing Oregon skies and the distinctive silhouettes of Mount Jefferson, Mount Hood and Mary's Peak, while standing firmly on the fertile soil of Oregon's Willamette Valley. Each painting is an expression of the exuberance produced by healthy, bountiful harvests at Karla Chambers' Stahlbush Island Farms.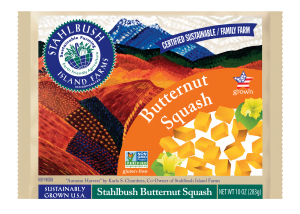 Karla directed her energy as an Oregon farmer towards putting paint to canvas. Like Wendell Berry, the poet-farmer, Karla makes the connections between culture and agriculture with her celebratory paintings that have been appreciated at galleries across the country. One of the most established galleries in Union Square Gallery 444, has represented Karla since 2008.
Karla began capturing the multicolored fields and surrounding mountain views with broad, bright strokes. The way she sows her fields is the way she cultivates her canvases, harvesting the beauty and sharing the bounty. As she grew artistically, the patterns in her paintings boldly expanded: reflecting the rolling rhythms of the hills, the patterns of fallen leaves and the notes of berries in the field. Annice Jacoby, arts writer, emphasizes the appeal of Karla's work. "Her artistic ancestors are broad ranging from the bold stroke fields of Van Gogh, the joie-de-vive of Calder, the folklorico playfulness of Chagall, warmth and welcoming energy of Sister Corita or the pattern obsessed wonderment of Hundertwasser."
In 2012, her creative and her agricultural life came together. She decided to depict the relationship she saw between quality produce and art. The entire line of Stahlbush's frozen fruits and vegetables will now incorporate her original art on its packaging. Karla says, "When you open the Stahlbush bag, I want you to open a bit of our home here in the beautiful Willamette Valley."
Check out a recap of the show: