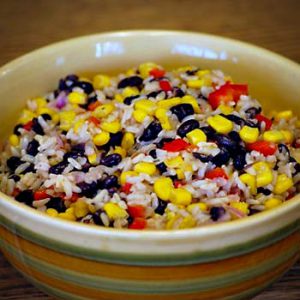 Southwest Brown Rice & Black Bean Salad
2017-02-03 15:31:42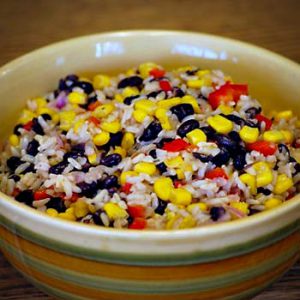 A Stahlbush favorite, this Southwest brown rice & black bean salad has a great combination of flavors. It also came in third place in a Stahlbush employee recipe competition.
1 bag Stahlbush Island Farms Brown Rice & Black Beans
1 bag Stahlbush Island Farms Super Sweet Corn
1/2 red bell pepper, seeded, deveined and chopped
1/2 small red onion, chopped
1/2 cup oregano & basil rice vinegar
1 teaspoon tarragon
1/3 cup olive oil
3/4 teaspoon ground cumin
3/4 teaspoon chili powder
1 garlic clove, minced
1 teaspoon honey
Fill a large pot half full with water and bring to a boil.
Slowly pour in rice and beans.
Wait for water to return to boiling.
Slowly pour in corn and again wait for water to return to boiling.
Remove from heat and immediately pour through a strainer.
Drain rice, bean and corn mixture thoroughly, transfer to a large bowl and set aside to cool.
For the dressing, put all of the ingredients in a small bowl and whisk together.
Pour dressing over rice, beans and corn.
Toss together.
Chill before serving.
Stahlbush Island Farms http://www.stahlbush.com/