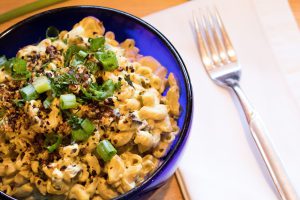 Vegan Cauliflower Crumbles Mac 'N' Cheese
2017-07-28 14:00:24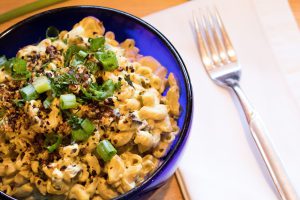 1 pound elbow macaroni pasta
6 Tbsp. extra virgin olive oil
salt
4 cups diced shiitake or cremini mushrooms
1 Tbsp. liquid aminos or gluten-free soy sauce
1 Tbsp. dried thyme
1 cup diced yellow onion
1 Tbsp. minced garlic about 3 cloves
¼ cup vegetable broth
2 Tbsp. fresh lemon juice
1 cup raw unsalted cashews soaked
1 cup Stahlbush Island Farms cauliflower crumbles
½ cup nutritional yeast plus more to taste
1 Tbsp. white miso paste
¼ tsp. ground turmeric
2 Tbsp. finely chopped flat-leaf parsley plus more to taste
freshly ground black pepper
1 cup Stahlbush Island Farms Cauliflower Crumbles
1 ½ Tbsp. hemp seeds
1 clove garlic minced
1 tsp. olive oil
2 tsp. finely chopped parsley
generous ¼ teaspoon sea salt
freshly ground black pepper
More Garnishes (optional)
1/8 tsp. cayenne pepper
2 Tbsp. finely chopped chives plus more to taste
2 Tbsp. finely chopped green onion plus more to taste, green parts only
Bring a large pot of water to a boil with 1 tablespoon of the olive oil and a pinch of salt.
Cook the pasta according to the instructions on the package until al dente, and drain thoroughly.
While the pasta is cooking, in a large skillet over medium heat, warm 3 tablespoons of the olive oil and sauté the mushrooms with the soy sauce and thyme for about 5 minutes, until the mushrooms are tender.
Transfer to a large bowl.
In the same skillet, heat the remaining 1 tablespoon of olive oil over medium heat and sauté the onion and garlic for about 5 minutes, until soft and translucent.
Allow to cool slightly.
Heat the cauliflower crumbles in the microwave on high for 3 minutes.
To make the sauce, throw the onion mixture, 1 ½ teaspoons of salt, the broth, lemon juice, cashews, cauliflower crumbles, nutritional yeast, miso paste, turmeric, and the cayenne pepper booster into your blender and blast on high for 30 to 60 seconds, until smooth and creamy.
Transfer the pasta to a large pot, and stir in the remaining 1 tablespoon of olive oil.
Stir the sauce into the pasta along with the mushrooms and gently warm over low heat.
Tweak the salt and parsley and season with black pepper to taste.
Preheat the oven to 425ºLine a small baking sheet with parchment paper.
In a small bowl, mix the cauliflower crumbles, hemp seeds, minced garlic, olive oil, parsley, salt, and pepper to taste.
Spread in a single layer on the parchment paper and bake for 22-30 minutes, stirring and turning halfway through, until crispy.
Set aside until ready to serve.
Top mac 'n' cheese with a generous hand of breadcrumbs, parsley and green onion.
Adapted from Kale & Caramel
Stahlbush Island Farms http://www.stahlbush.com/