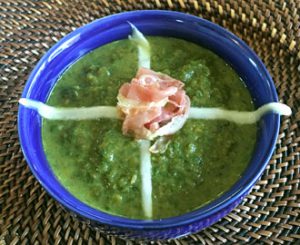 Spinach and Lentil Soup with Pancetta
2017-06-27 13:13:48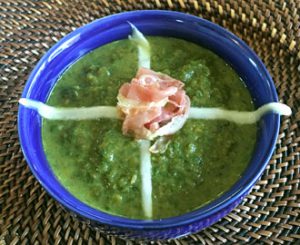 A hearty spinach soup with lentils and pancetta.
2 medium onions, peeled and finely chopped
2 medium carrots, peeled and finely diced
The white inner heart of a head of celery, finely diced
2 cloves of garlic
2 Tbsp. olive oil
250g lentils
1.5L chicken stock
2 (10 oz.) packages of Stahlbush Island Farms Cut Spinach, thawed
Sea Salt and freshly ground black pepper
16 slices of pancetta
Heat the olive oil in a saucepan, add the onions, carrots and garlic.
Turn the vegetables in the hot oil and cook uncovered over medium heat for about 10 minutes until they are starting to tenderize.
Don't allow the pan to get so hot that the vegetables scorch.
Equally you don't want the vegetables to become soggy.
Add the Lentils and chicken stock and bring to a simmer.
Cook uncovered at a very gentle simmer for 20-30 minutes or until the lentils are quite tender.
In the last five minutes, toss in the thawed spinach.
When the lentils are cooked, season with salt and pepper.
Blend the soup with a hand held blender to achieve a coarse puree.
The soup must not be completely smooth, so pulse the soup rather than long blending actions. Small pieces of spinach should be clearly visible.
Taste and correct seasoning.
Before serving, cook the slices of pancetta until crisp in a dry nonstick frying pan.
Place on kitchen paper and keep warm.
To serve reheat the soup and place two slices of the pancetta in each bowl.
Drizzle each serving with olive oil.
Stahlbush Island Farms http://www.stahlbush.com/