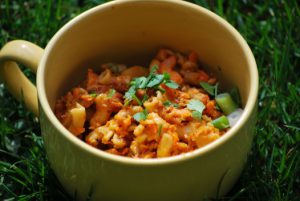 Spicy Sweet Potato Mac n Cheese
2017-06-12 14:00:58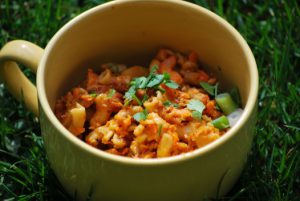 A spicy, sweet version of mac n cheese thats so delicious and easy to make. Recipe adapted from MyRecipes.com.
2 bags Stahlbush Island Farms Sweet Potatoes
8 ounces uncooked macaroni pasta
1 cup fat-free milk
2 tablespoons chopped jalapeño
1/2 teaspoon salt
1/4 teaspoon ground black pepper
1 tablespoon olive oil
6 ounces Mexican style chorizo, casings removed
1/4 cup chopped green onions
cilantro for garnish
3/4 cup shredded Cheddar Cheese
Cook pasta according to package directions.
Meanwhile add Stahlbush Island Farms sweet potatoes to boiling water.
Cook for about 5 minutes.
Remove from heat and drain.
Mash the sweet potatoes in a large bowl.
Stir in milk, salt, jalapeño, pepper, and cheese.
Add cooked & drained macaroni to the mixture.
Preheat broiler.
Warm olive oil in a large dutch oven over medium heat.
Add chorizo to pan.
Cook for 4 minutes or until browned.
Remove chorizo from dutch oven.
Wipe it clean.
Spoon sweet potato mixture into pan and sprinkle evenly with chorizo.
Broil 2 minutes or until lightly browned and crisp.
Sprinkle with onions and cilantro.
Adapted from
MyRecipes.com
Adapted from MyRecipes.com
Stahlbush Island Farms http://www.stahlbush.com/