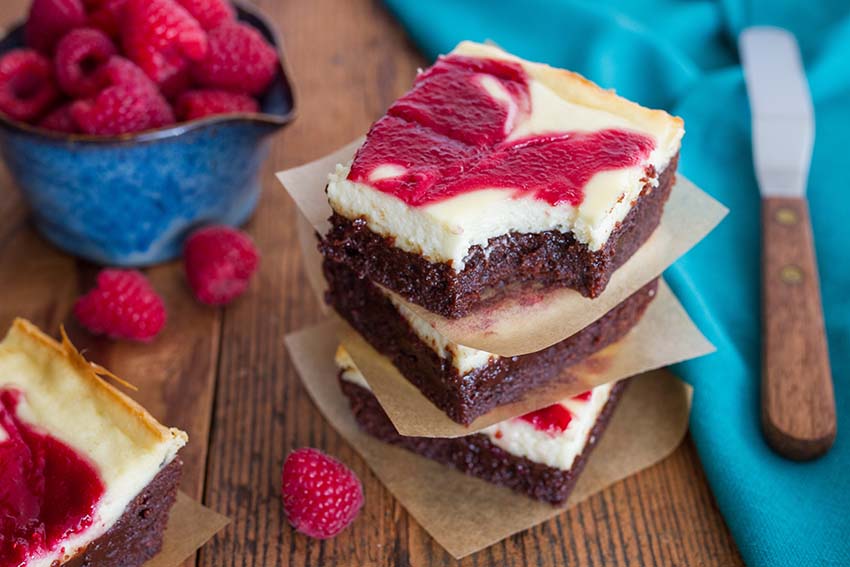 Raspberry Swirl Cheesecake Brownies
Decadent fudge brownies with a creamy raspberry swirl topping are the ultimate dessert to make for any occasion!

Ingredients
1 C all-purpose flour
¼ t fine sea salt
8 oz bittersweet chocolate, finely chopped
1 stick unsalted butter
1 C plus 2 tablespoons sugar, divided
3 eggs, divided
2 t vanilla, divided
8 oz cream cheese, softened
1 C thawed Stahlbush Island Farms Red Raspberries
Directions
Preheat oven to 350℉. Grease a 9" square baking pan and line with parchment.
In a medium bowl, whisk together flour and salt. In a medium saucepan over medium-low heat, melt chocolate with butter, stirring frequently. Remove from the heat and whisk in ¾ cup sugar. Whisk in 2 eggs, one at a time, and 1 teaspoon vanilla. Fold flour into chocolate mixture until combined and pour into baking pan. Set aside.
In a medium bowl, beat cream cheese, ¼ cup sugar, 1 egg, and 1 teaspoon vanilla until smooth. Spread over brownie batter in the pan.
In a food processor, pulse raspberries and 2 tablespoons sugar until smooth. Strain through a fine mesh sieve to remove seeds. Spoon the raspberry sauce onto the cheesecake layer in uneven dollops and use a skewer to swirl the berry puree into the cheesecake layer.
Bake for 45 minutes or until set. Cool completely before slicing.
Recipe courtesy of Oregon Raspberry & Blackberry Commission