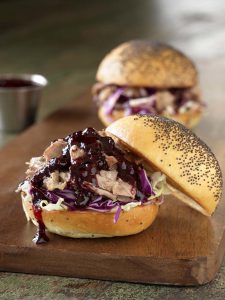 Pulled Pork Sliders with Marionberry Mojito Sauce
2018-01-29 11:06:49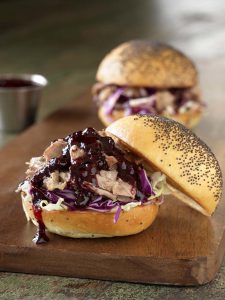 The perfect twist to a classic sandwich!
PULLED PORK
1 boneless pork butt (about 5 pounds)
4-6 Oranges juiced or enough to equal 2 cups
1 head of garlic, peeled, with cloves crushed
1 bunch mint
Salt and Pepper to season roast
MARIONBERRY MOJITO SAUCE
4 T sugar
¼ C limejuice
2 C Marionberries – fresh or frozen (may substitute equal amount blackberries)
1/3 C white rum
½ C soda water
1 T fresh mint cut in a chiffonade by rolling mint leaves into a log and cutting into long thin strips with a sharp knife.
1 t fresh basil cut in a chiffonade
Preheat oven to 500 or 550 degrees, the max your oven can go.
On a cutting board, cut the pork butt into similar sized pieces, it doesn't have to be perfect, just so it can lay evenly in a 5 1/2 quart Dutch oven or similar pan.
If you don't have a Dutch oven use a roasting pan and cover with aluminum foil.
Cut the oranges in half, and squeeze the juice over the pork.
Add the orange rinds to the pan.
Add garlic and season liberally with salt and pepper.
Mix everything together and lay back in a single layer in Dutch oven or baking pan.
Tuck the mint sprigs between the pieces of pork.
Place baking pan in the oven, uncovered and cook for 10 minutes.
Then turn down the oven to 300 degrees, cover with Dutch oven lid or heavy-duty aluminum foil if using roasting pan, and continue to cook until fork tender, about 2-3 hours.
Remove the pork roast from the oven and transfer to a large platter.
Allow the meat to rest for about 10 minutes.
Remove garlic and orange rinds. While still warm, take 2 forks and "pull" the meat to form shreds. Using 2 forks shred the pork by steadying the meat with 1 fork and pulling it away with the other. Put the shredded pork in a bowl.
Pour 1/2 of the sauce on the shredded pork and mix well to coat.
FOR THE SAUCE
In sauce pan over medium heat lime juice and sugar and stir continuously until melted.
Add Marionberries.
Stir mixture until it boils.
Remove from heat and stir again top be sure sugar has melted.
Carefully add rum and soda water to berry mixture, mixture will boil over if liquids are added too fast.
Return saucepan to heat and simmer until mixture is reduced by 2/3.
Add mint and basil. Remove from heat. Set aside.
Begin by putting pork butt in to roast following directions above. While pork cooks prepare Marionberry Mojito Sauce. Serve on slider sized, good quality buns (18-20 buns). Add 1 tablespoon of Marionberry Mojito sauce to each bun before serving. Pass additional sauce. Marionberry Mojito sauce is also good on grilled salmon, chicken or shrimp.
Adapted from Oregon Raspberry & Blackberry Commission
Stahlbush Island Farms http://www.stahlbush.com/