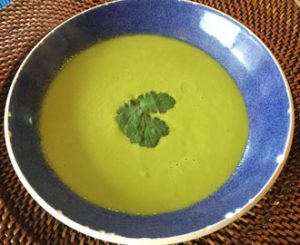 Green Pea and Cilantro Soup
2017-06-27 11:32:33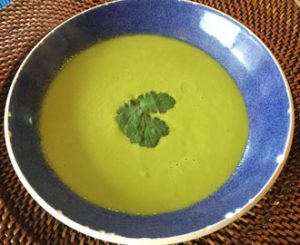 A savory combination of green peas and cilantro.
2 (10 oz.) packages of Stahlbush Island Farms Green Peas
1/2 stick butter
1 cup onion, finely chopped
2 cloves garlic, peeled and chopped
1 green chili, deseeded and finely chopped
3 3/4cups chicken stock
2 tablespoons (2 American tablespoons + 2 teaspoons) approx. chopped fresh cilantro
Salt, freshly ground pepper
Bring the chicken stock to the boil.
In a separate pot, melt the butter on a gentle heat add the onion, garlic and chili.
Season with salt and freshly ground pepper and sweat for 3-4 minutes.
Add the peas and cover with the hot stock.
Bring to the boil and simmer for 5-8 minutes.
Add the cilantro and transfer to a blender or food process.
Process until smooth.
Season with salt and freshly ground pepper.
Serve with a swirl of softly whipped cream and a few fresh cilantro leaves sprinkled over the top.
Stahlbush Island Farms http://www.stahlbush.com/