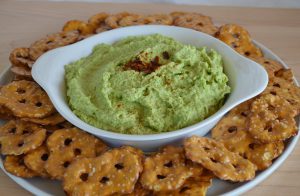 Green Garbanzo Hummus
2018-01-31 14:13:27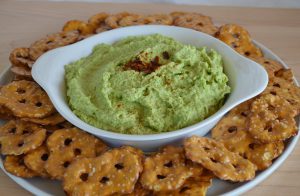 A roasted poblano adds the perfect amount of spice to this vibrant hummus
1 poblano chile
1 (10 oz.) package of Stahlbush Island Farms green garbanzo beans
2 garlic cloves, peeled and smashed
1/2 lemon, squeezed
3 Tbsp. tahini
1 tsp. salt
2 Tbsp. ice cold water
red pepper flakes and paprika to garnish
Preheat the oven to 425F.
Coat the poblano in olive oil and roast for 30-45 minutes or until charred on all sides.
Flip the poblano half way through baking.
Remove from oven, cover and let steam for 20 minutes.
Meanwhile bring a pot of water to a boil.
Add the frozen green garbanzo beans and bring the pot back to a boil.
Drain and rinse.
Let cool slightly.
When the poblano is cool enough to handle, remove the seeds and peel the skin.
Roughly chop and add it along with remaining ingredients to a food processor.
Process until smooth.
Transfer to a serving bowl and sprinkle with red pepper flakes and paprika.
Serve with pretzels, pita chips or crisp veggies.
Stahlbush Island Farms http://www.stahlbush.com/