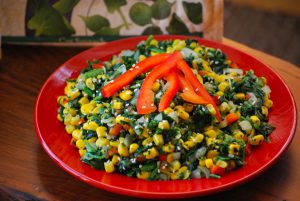 Everyday Stir-Fry
2017-06-20 09:21:36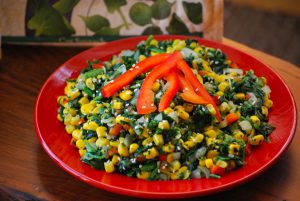 This recipe is one of Karla Chambers' favorite staple side dishes for dinner. It's simple, easy, and incredibly delicious. Try it tonight!
1 bag Stahlbush Island Farms frozen Cut Spinach
1 bag Stahlbush Island Farms frozen Super Sweet Corn
1 small onion (chopped)
1 red bell pepper (chopped)
2 cloves garlic (chopped) or garlic powder
1 tablespoon olive oil
salt and pepper to taste
Heat the olive oil in a skillet over medium heat.
Add the onions and saute until they've released their juices (about 3 minutes) add garlic and corn. Saute another 5 - 10 minutes or until onions begin to caramelize.
Add spinach and chopped red pepper.
Saute until spinach is fully cooked and flavors are combined (about 8 minutes).
Garnish with chopped red pepper and sesame seeds.
Stahlbush Island Farms http://www.stahlbush.com/