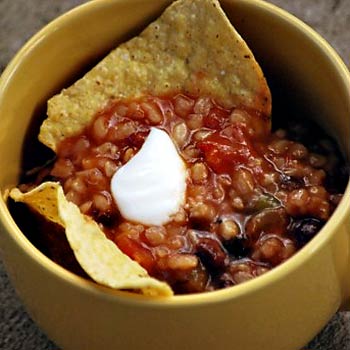 Southwest Black Bean Stew
2016-01-11 13:28:03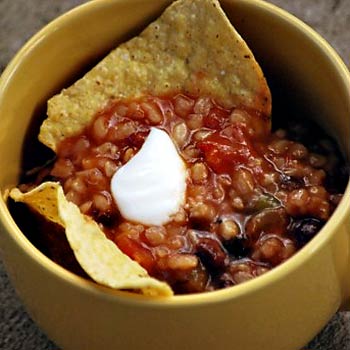 Another Stahlbush favorite, this recipe tied for third place in an employee potluck contest. It's adapted from Taste of Home's Southwest Black Bean Soup. We love our pre-cooked, frozen grains & legumes line! It's the best for healthy fast food! Recipe courtesy of Michele Bennett.
Ingredients
1 red pepper, chopped
2 stalks of celery, chopped
1 onion, chopped
2 teaspoons canola oil
2 bags Stahlbush Island Farms Brown Rice & Black Beans
2 cups chicken broth
1 can diced tomatoes
1 small can chopped green chilies
2 teaspoons ground cumin
Reduced fat sour cream and tortilla chips for serving
Instructions
Saute the pepper, celery, and onion in oil until tender.
Add the broth, tomatoes, chilies, and cumin. Bring to a boil.
Reduce heat and add the Stahlbush black beans and brown rice packages.
Simmer uncovered for 20 minutes or until thickened.
Place tortilla chips in bowls and cover with soup.
Top with a little sour cream.
Stahlbush Island Farms http://www.stahlbush.com/