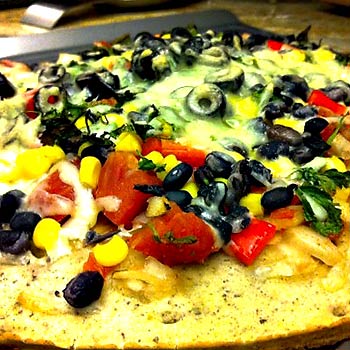 Black Bean & Corn Pizza
2016-01-08 16:02:42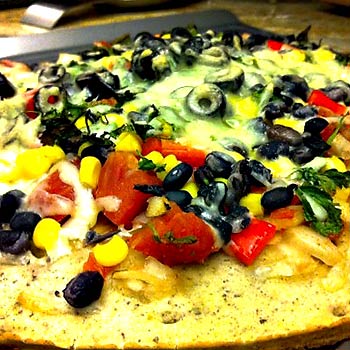 If you're in a pinch and need something fast, easy, healthy, and delicious to serve in 10 minutes, this recipe will be your new best friend. Courtesy of The Big Book of Easy Suppers by Martha Vollstedt.
Ingredients
12-inch pizza crust, purchased or homemade
1/2 cup fresh tomato salsa (or the fancy kind purchased)
2 cups grated Monterey Jack cheese
1 cup black beans (I used Stahlbush Brown Rice & Black Bean mix)
2 tablespoons chopped cilantro
1 cup Stahlbush Island Farms frozen super sweet corn
1/2 cup chopped red bell pepper
1/2 cup sliced black olives
Instructions
Preheat oven to 450 degrees.
Place pizza crust on a pan or baking sheet.
Spread salsa on crust within a half an inch to the edge.
Spread one cup of cheese over the salsa.
Add beans, cilantro, corn, bell pepper, and olives.
Sprinkle with remaining cheese and bake for about 10 minutes. Makes 8 slices.
Notes
You don't have to defrost the Stahlbush ingredients. You can add them right out of the freezer.
Stahlbush Island Farms http://www.stahlbush.com/