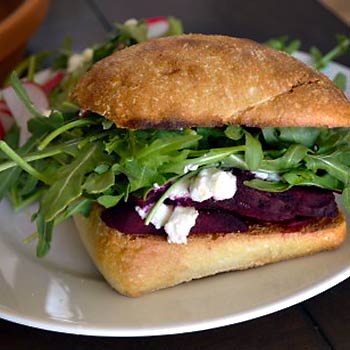 Arugula & Goat Cheese Beetwich
2016-01-08 15:53:25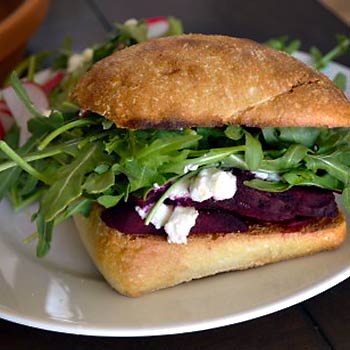 Peppery arugula, creamy goat cheese and Stahlbush sliced beets topped on toasted ciabatta, this recipe is delicious. Try it for a quick lunch or dinner.
Ingredients
4 slices of Stahlbush Island Farms Sliced Beets
1/4 cup spreadable goat cheese
1/2 cup arugula
dash olive oil and freshly squeezed lemon juice
salt and pepper to taste
2 slices rustic bread or ciabatta
Instructions
Preheat oven to 350ºF.
Drizzle olive oil over beets and top with salt and pepper.
Place beets on a sheet pan a few inches apart and bake for 15 to 20 minutes.
In the meantime, toast the rustic bread.
Spread the goat cheese on the warm bread slices. Cover with arugula.
Take the beets out of the oven and let cool slightly.
Put the beet slices on the sandwich and drizzle with olive oil and a dash of lemon juice.
Serve immediately.
Notes
**For a faster sandwich, place the frozen sliced beets in a single layer on a microwave safe dish. Cover with a paper towel and microwave on high for about 1.5 minutes or until steamy.
Stahlbush Island Farms http://www.stahlbush.com/