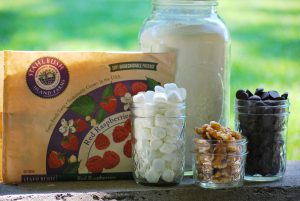 DIY Pancake Gift Set
2017-06-01 10:45:32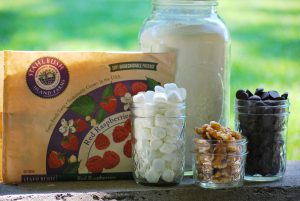 This recipe makes the perfect DIY gift set!
4 cups flour
3 tablespoons baking powder
2 teaspoons baking soda
1 teaspoon salt
3 tablespoons sugar
1 cup pancake mix
1 cup milk
1 egg
2-3 tablespoon butter, melted
1/2 cup frozen red raspberries
Whisk together ingredients in a large bowl.
Pour contents into a mason jar or other decorative jar.
Pair with assortment of chocolates, marshmallows, walnuts, and one bag of Stahlbush Island Farms Red Raspberries or berries of your choice.
Combine 1 cup of pancake mix with 1 egg, 2-3 tablespoons butter (melted), 1 cup milk, and 1/2 cup of frozen berries tossed with a little flour to prevent bleeding.
Mix until smooth.
Fold in your choice of toppings.
Heat a lightly oiled pan and pour a scoop of the batter on the pan.
Brown on both sides.
Serve warm.
Stahlbush Island Farms http://www.stahlbush.com/