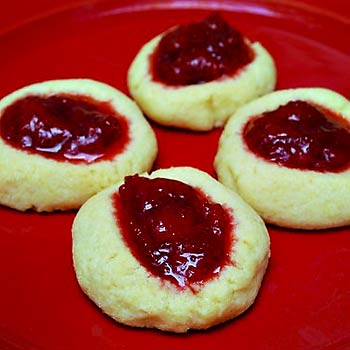 Strawberry Thumb Cookies
2016-01-06 15:07:53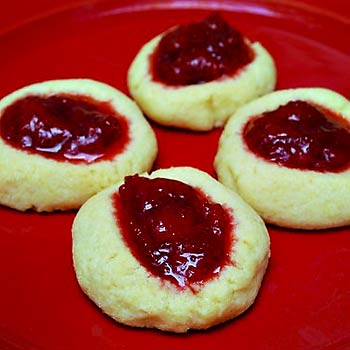 Once you make our delicious Strawberry Honey Freezer Jam, it opens the door to so many other recipes! One of our favorites is Strawberry Thumb Cookies, a little bite of shortbread topped with a spoonful of jam and baked to perfection! These little cookies are so great to have on hand.
Ingredients
11 Tablespoons butter
1/3 cup white sugar
2 egg yolks
1 teaspoon vanilla extract
1/4 teaspoon salt
1 1/2 cups all-purpose flour
1/2 cup Strawberry Honey Freezer Jam
Instructions
Preheat oven to 350 degrees and cover a cookie sheet with parchment paper.
In a large bowl, combine butter and sugar.
Beat in egg yolks and vanilla.
Gradually mix in flour. Shape dough into 1/2 inch balls.
Place them about 1 inch apart on the cookie sheet.
Press down center with thumb.
Spoon about 1 teaspoon of jam into the center of each cookie.
Bake for 15 to 17 minutes.
Cool on baking sheet for about 5 minutes, then remove to a wire rack to finish cooling.
Stahlbush Island Farms http://www.stahlbush.com/