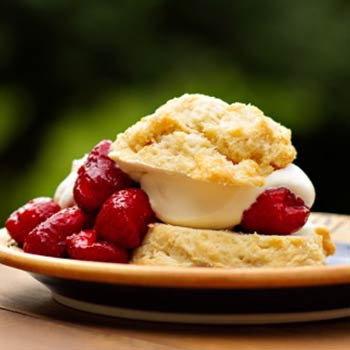 Strawberry Shortcake
2016-01-06 14:53:47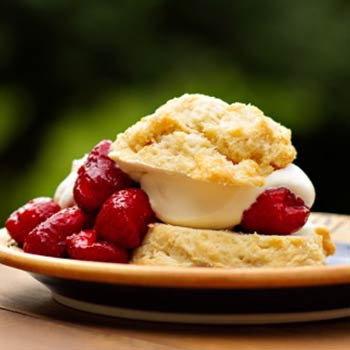 Reward a hard day's work with this scrumptious dessert made with the freshest ingredients. This strawberry shortcake recipe is a personal favorite of Stahlbush's co-owner Karla S. Chambers.
Shortcake
2 cups flour
2 Tbsp. sugar
3 tsp. baking powder
1/2 tsp. salt
1/3 cup crisco shortening or butter
3/4 cup milk
Topping
2 (10 oz.) bags Stahlbush Island Farms Strawberries
1/2 cup sugar
whipped cream
Whipped Cream
1 cup heavy cream
1 Tbsp. granulated sugar
1/2 tsp. vanilla extract
Instructions
Preheat oven to 425˚F.
Sift together the flour, baking powder and salt.
Cut in the shortening or butter with a pastry knife.
Add the milk and stir with a fork until moistened.
Turn onto a well-floured surface or a pastry board.
Knead about 25 times.
Use a biscuit cutter to cut out shortcakes and place them on a baking sheet.
Bake for 15 to 20 minutes.
Remove from oven and place on a cooling rack.
Meanwhile, mash thawed strawberries in a large bowl with a potato masher, reserving some whole strawberries for garnish if desired.
Stir in 1/2 cup sugar to the berries.
Whipped cream
Combine heavy cream, sugar and vanilla extract in a large bowl and beat with an electric mixer until stiff peaks form.
Now assemble the strawberry shortcakes.
Cut the shortcakes in half and top with strawberries and whipped cream.
Enjoy!
Stahlbush Island Farms http://www.stahlbush.com/