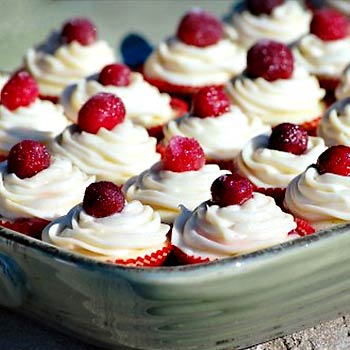 Sparkling Cream Cheese Cranberry Cupcakes
2016-01-06 13:56:08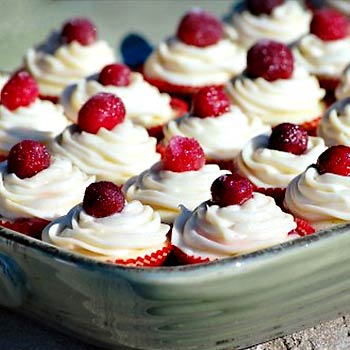 These lovely creations were a favorite at our Thanksgiving company potluck. Baked by Stahlbush employee, Kerri Hicks this recipe is adapted from Krissy's Creations. Enjoy this perfect holiday treat.
Cupcake
1 cup (2 sticks) unsalted butter, at room temperature
8 ounces cream cheese, softened
2 cups sugar
3 eggs
¼ teaspoon almond extract
1 ½ teaspoon pure vanilla extract
2 ½ cups cake flour
1 teaspoon salt
1 teaspoon baking powder
½ cup milk
2 cups frozen Stahlbush cranberries, thawed
White Chocolate Filling
1 cup heavy whipping cream
5 ounces of white chocolate, chopped
1/2 cup egg whites (about 3-4 eggs)
2 tablespoons of sugar
Maple Cream Cheese Frosting
16 ounces cream cheese, softened
½ cup unsalted butter, softened
2 cups powdered sugar
2 teaspoons pure vanilla extract
2 tablespoons pure maple syrup
Sugar covered Cranberries (optional)
2 cups Stahlbush frozen cranberries
1 cup maple syrup
1 cup granulated sugar
Instructions
Make white chocolate mousse first. Place the chopped white chocolate pieces in a heat safe bowl.
Heat the heavy whipping cream in a saucepan until just boiling.
Pour over the white chocolate pieces and mix with a whisk until the chocolate is completely melted.
Place in refrigerator overnight.
Next day
Take the white chocolate mixture out of the refrigerator and mix on high speed with a whisk attachment until soft peaks form.
Place back in refrigerator.
In a medium bowl beat egg whites with a mixer until soft peaks form add sugar and beat another 30 seconds or until still and glossy.
Fold the egg white mixture into the white chocolate mixture and refrigerate while making the cupcakes.
Cupcakes
In a large bowl, mix the butter and cream cheese until smooth.
Add sugar until well incorporated.
Mix in the eggs one at a time.
Add almond and vanilla extract and mix.
In a separate bowl, combine cake flour, salt and baking powder.
Add the flour mixture in 3 additions, alternating with the milk (starting and ending with flour).
In a small bowl, toss the cranberries in 1 tablespoon of cake flour.
Carefully fold the cranberries into the batter.
Fill cupcake liners 3/4 of the way full as they will not rise very much.
Bake at 350ºF for 15 minutes for mini cupcakes or 25 - 35 minutes for regular sized cupcakes.
The tops should turn a light golden brown and a toothpick inserted in the middle should come out clean.
Let them cool in the pan for 5 minutes, then transfer them to a cooling rack to cool completely.
While you are waiting for the cupcakes to cool down, make frosting.
Frosting
Mix the butter and cream cheese together in a large bowl.
Add the powdered sugar 1 cup at a time, mixing well.
Add the vanilla extract and the maple syrup and mix well.
Once the cupcakes are cooled completely, make a small hole in the middle of each one and fill with the white chocolate mousse filling.
Use a piping bag and fill with the frosting to frost each cupcake.
Sugar Covered Cranberry Garnish (optional)
Rinse cranberries and place them in a small bowl.
In a small saucepan, heat the maple syrup just to get it warm, not hot.
Pour the warm syrup over the cranberries, cover and refrigerate overnight.
The next day
Take the cranberries out of the refrigerator.
Drain the cranberries in a colander.
Place the sugar in a small bowl and place a few cranberries at a time in the bowl to coat with sugar.
Place the sugared cranberries on a baking sheet to dry (about 1 hour).
Place one sugared cranberry on top of each cupcake.
Stahlbush Island Farms http://www.stahlbush.com/