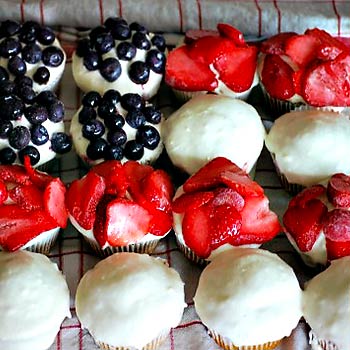 Patriotic Sweet Potato Cupcakes
2016-01-06 13:34:07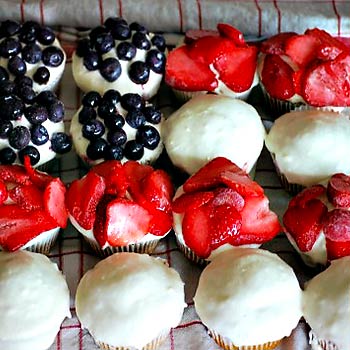 What could be more fun than patriotic cupcakes? As a family farm that proudly grows and sources everything in the USA, we love coming up with new, fun recipes for your next backyard bbq. This recipe will have your neighbors making you a permanent fixture on their guest list. Tip: slice the strawberries while they are still frozen.
Cupcakes
1 bag Stahlbush Island Farms Whole Strawberries (sliced)
1/2 bag Stahlbush Island Farms Blueberries
1 can Farmer's Market Organic Sweet Potato
1 cup whole wheat flour
1 cup all purpose flour
2 teaspoons baking powder
1 teaspoon ground cinnamon
1/2 teaspoon baking soda
1/4 teaspoon salt
1 cup butter, softened
1 cup sugar
1/4 cup applesauce
3 eggs
1/4 teaspoon almond extract
Icing
1 8-ounce package cream cheese, softened
2/3 cup butter, softened
2 tablespoons bourbon or milk
4 cups powdered sugar
Cupcakes
Preheat oven to 350ºF.
Line muffin baking tin with paper muffin cups; set aside.
In medium bowl stir together the flour, baking powder, cinnamon, baking soda, and salt.
In a large mixing bowl combine butter and sugar until light and fluffy.
Add eggs, one at a time, beating after each addition.
Add sweet potatoes, applesauce, and almond extract. Stir until combined.
Add flour mixture; stir until combined (batter will be thick).
Divide batter evenly among prepared muffin cups.
Bake about 20 minutes or until a toothpick comes out clean.
Cool in pan on wire rack for 1 minute.
Remove from pan and cool completely.
Icing
In large mixing bowl beat cream cheese and butter with electric mixer on medium speed for 30 seconds. There is no getting around it. To make proper icing, you need an electric mixer.
Add bourbon and beat until combined.
Beat in powdered sugar, about 1/2 cup at a time, until smooth.
Top cupcakes with blueberries and sliced strawberries.
Serve immediately.
Stahlbush Island Farms http://www.stahlbush.com/