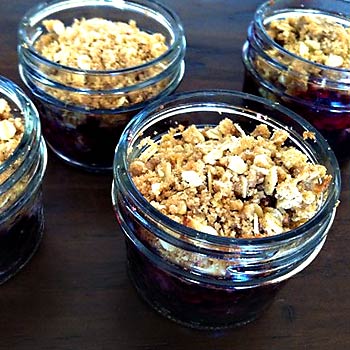 Marionberry Mini Cobblers
2016-01-06 13:20:52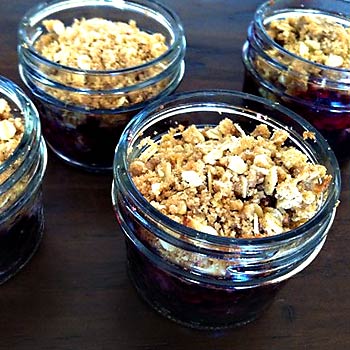 The best recipe to bring to an outdoor BBQ, picnic, or school/work snack. Try it today!
Filling
1 bag Stahlbush Island Farms Marion blackberries
1/4 cup Instant Tapioca
Crust
2/3 cup rolled oats
3/4 cup flour
1 cup brown sugar, packed
1/2 cup butter
1 tsp cinnamon
1 tsp nutmeg
8 4-oz mason jars
Instructions
Place fruit into a large mixing bowl.
Sprinkle tapioca on top of fruit.
Divide fruit and tapioca among clean mason jars.
Cut butter into dry ingredients.
Spread on top of fruit mixture. Make sure to press down firmly and add as much topping as you can. Don't worry about the mixture being too full. The fruit will boil down substantially.
Place mason jars (without the tops) on a baking sheet.
Bake at 350ºF for about 25 minutes, or until golden brown.
Stahlbush Island Farms http://www.stahlbush.com/