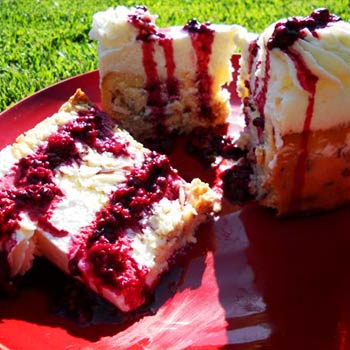 Gluten-Free Cheesecake with Boysenberry Drizzle
2016-01-06 13:13:43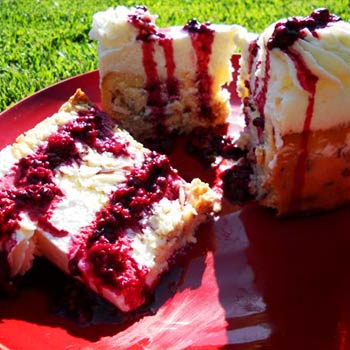 This is my absolute favorite cheesecake recipe of all time. It's one of the desserts that we served at the Corvallis Wine Walk. It may sound intense, but it only takes 5 minutes to prepare and 35 to bake. However, if you have never made cheesecake before, be aware that it has to refrigerate overnight. There is no instant gratification in homemade cheesecakes:) The wait is so worth it!
Walnut crust
1 1/2 cups ground walnuts
3 tablespoons butter
2 tablespoons white sugar
Cheesecake
8 ounces cream cheese (room temperature)
1/2 cup sugar
1/2 tsp vanilla extract
dash of salt
2 large eggs
Topping
1 cup sour cream
2 tbs sugar
1 tsp vanilla extract
Boysenberry Sauce
1 bag Stahlbush Island Farms frozen boysenberries
¼ cup sugar
¼ cup water
½ tsp lemon zest
2 tsp cornstarch
Walnut crust
In a medium mixing bowl, combine all ingredients.
Press the nut mixture firmly into bottom and sides of a 9 inch pie plate.
Bake at 325 degrees F for about 10 minutes, or until the edge is golden brown.
Cool before adding the filling.
Cheesecake
In medium bowl beat cream cheese.
Gradually add sugar, vanilla, salt.
Add eggs one at a time, beating after each addition and scraping down sides of bowl, beat 1 minute.
Pour into crust and bake for 35 minutes at 325 degrees.
Topping
Combine all ingredients in a medium bowl.
Remove cheesecake from oven and spread on topping.
Bake until topping set about 10 minutes longer.
Let cool on wire rack then cover and refrigerate overnight.
Boysenberry Sauce
In a saucepan over medium high heat combine all ingredients and cook stirring constantly until thickened (5 minutes).
Let cool to room temp before serving.
Stahlbush Island Farms http://www.stahlbush.com/