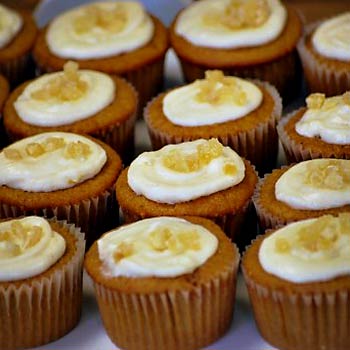 Ginger-Topped Sweet Potato Cupcakes
2016-01-06 13:07:44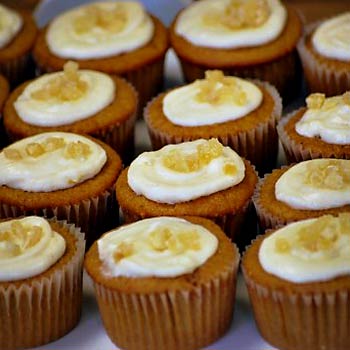 These creamy little sweet potato cupcakes were a big hit among Stahlbush employees. Try them today! Recipe courtesy of Arielle Nuñez.
Ingredients
2 bags Stahlbush Island Farms Sweet Potatoes
2 cups flour
1 cup brown sugar
1 cup white sugar
1 teaspoon baking soda
1 teaspoon baking powder
1 teaspoon salt
1 teaspoon cinnamon
1 teaspoon ground ginger
1/2 teaspoon nutmeg
2 sticks butter, melted
4 eggs
6 oz. Greek yogurt
1 box (5.1 oz.) vanilla instant pudding
Frosting
2 packages cream cheese
1/2 cup butter, softened
1 teaspoon vanilla
2 cups powdered sugar
1/4 teaspoon cinnamon
1/3 cup diced candied ginger
Instructions
Preheat oven to 350ºF and place cupcake liners in a muffin tin.
Follow the directions on the sweet potato bags for defrosting, and then drain the excess water.
Place potatoes in a food processor and pulse until pureed. Set aside so that it can cool a bit before you add it to the mix.
In a small bowl, combine the instant pudding mix, flour, baking soda, baking powder, salt, cinnamon, ginger, and nutmeg. Set aside.
In a large bowl combine the brown sugar, white sugar, and butter.
Add the eggs one at a time, followed by the Greek yogurt.
Add the sweet potatoes.
Slowly add the dry ingredients; mix until relatively smooth.
Spoon the mixture into the cupcake liners, filling them 3/4 of the way full.
Stick in the oven for 25-27 minutes.
Test with a toothpick for readiness, and let them rest for five minutes before removing from the tin.
For the frosting
Cream the cream cheese, butter and vanilla until smooth with a hand blender.
Add the powdered sugar slowly so that it doesn't fly up everywhere.
When the frosting is ready, place it into a piping bag. Cut the tip and squeeze dollops onto the tops of the cupcakes.
Sprinkle with candied ginger sparingly over the top.
Stahlbush Island Farms http://www.stahlbush.com/