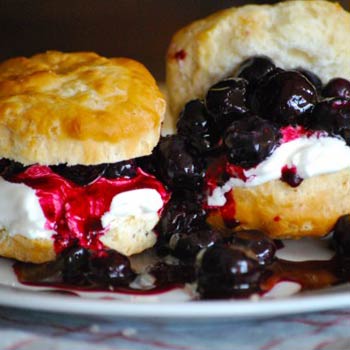 Blueberry Cookie Crumble
2016-01-06 12:46:36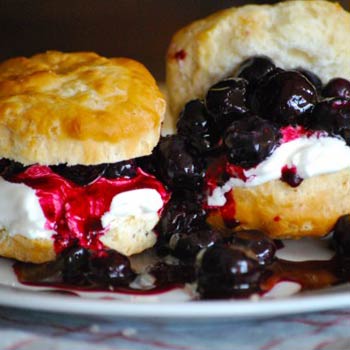 This recipe comes in at just under 320 calories per biscuit if you use fat-free whip cream. It was inspired by a farm to school event we are doing in March. Getting children excited to eat healthy can be SUPER fun for grownups too!
Filling
1 bag Stahlbush Island Farms Blueberries
1/4 cup sugar
juice of 1/2 lemon
2 teaspoons cornstarch
1 cup frozen whipped cream
Shortcakes
2 cups flour
1/4 cup sugar
1 tablespoon lemon zest
2 teaspoons baking powder
1/2 teaspoon baking soda
1/4 teaspoon salt
1/4 cup chilled butter
1/2 cup buttermilk
1 teaspoon water
1 beaten egg white
Instructions
Preheat oven to 400 F.
Whisk together flour, sugar, lemon zest, baking powder, baking soda, and salt.
Add butter in small pieces.
Add buttermilk and stir until moist.
Place dough on a floured surface. Roll dough to a 1/2 inch thickness.
Use a biscuit cutter to cut out 8 biscuits. Place about 2 inches apart on a greased baking sheet or pizza stone.
Combine water and egg whites. Brush the egg wash lightly on the tops of the biscuits.
Bake for 13 minutes.
Filling
Combine 1 cup blueberries, 1/4 cup sugar, lemon juice, and cornstarch in a small saucepan. Bring to a boil.
Reduce heat and simmer until thick, about 5 minutes. Place in glass tupperware.
Add the rest of the blueberries and combine until coated.
Cover and chill in the refrigerator.
Cut biscuits in half.
Add thick layer of whipped cream.
Top with blueberry sauce.
Cover the cookie with the other half of the biscuit.
Notes
You can save time by using already prepared biscuits.
Stahlbush Island Farms http://www.stahlbush.com/