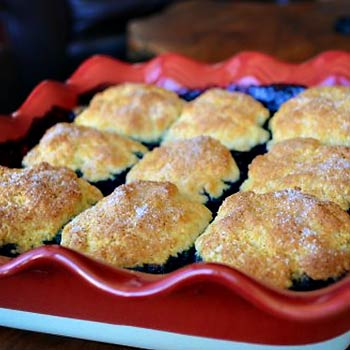 Blueberry Cobbler
2016-01-06 12:36:21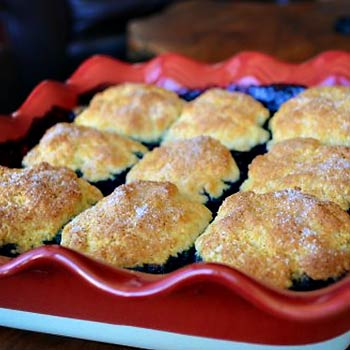 Blueberry cobbler is such a fun dish to make year round with Stahlbush Island Farms frozen blueberries. We especially love this recipe because of the drop biscuits on top that make it easy to scoop out individual portions.
Filling
½ cup granulated sugar
2 Tablespoons tapioca
1/4 teaspoon ground cinnamon
Pinch ground ginger
Pinch salt
3.5 bags (6 cups) Stahlbush Island Farms frozen blueberries
1 tablespoon lemon juice
Topping
1 cup all-purpose flour
¼ cup granulated sugar
2 tablespoons yellow cornmeal
2 teaspoons baking powder
¼ teaspoon baking soda
¼ teaspoon salt
1/3 cup buttermilk
4 1/2 tablespoons unsalted butter, melted
½ teaspoon vanilla extract
Filling
Preheat oven to 375 degrees F.
Whisk the sugar, tapioca, cinnamon, ginger and salt together in a large bowl.
Add the blueberries and mix gently until evenly coated; add lemon juice and mix to combine.
Transfer the berry mixture to an 8-inch square baking dish.
Bake until the filling is hot and bubbling around the edges, about 25 - 35 minutes.
Topping
Whisk the flour, sugar, cornmeal, baking powder, baking soda and salt together in a large bowl.
In a separate bowl, whisk the buttermilk, melted butter and vanilla together.
About a minute before the blueberries come out of the oven, add the wet ingredients to the dry and stir until just combined.
Remove the blueberries from the oven; increase the oven temperature to 425 degrees F.
Divide the dough into 9 equal pieces and place on top of the filling, spacing them at least ½-inch apart.
Sprinkle each mound of dough evenly with a little sugar.
Bake until the filling is bubbling and the biscuits are golden brown on top and cooked, 15 to 18 minutes.
Transfer the pie plate to a wire rack and let cool for 20 minutes; serve warm.
Stahlbush Island Farms http://www.stahlbush.com/