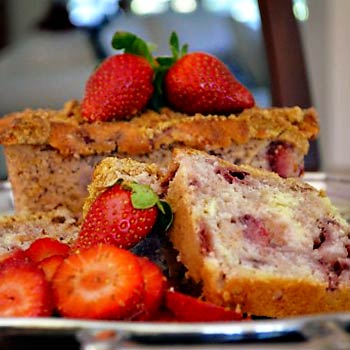 Strawberry Streusel Mini Bread
2016-01-05 18:23:30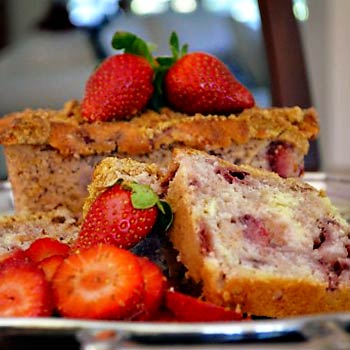 A lovely little breakfast treat or neighborly holiday gift, these mini breads are sweet and crunchy.
Ingredients
2 bags Stahlbush Island Farms Strawberries, chopped and thawed
3 1/2 cups all-purpose flour
1 1/2 cups sugar
4 1/2 teaspoons baking powder
1 teaspoon baking soda
1 teaspoon salt
2 cups buttermilk
8 tablespoons unsalted butter, melted and slightly cooled
2 eggs
Topping
3/4 cup flour
1/2 cup brown sugar
1/2 teaspoon cinnamon
1/4 teaspoon salt
4 tablespoons unsalted butter
Instructions
Preheat oven to 375ºF.
Grease 4 mini bread pans with butter.
Slice slightly thawed strawberries and place in a bowl to thaw completely.
Sift flour, sugar, baking powder, baking soda, and salt in a large bowl and set aside.
In separate bowl combine the buttermilk, eggs, and butter.
Pour the contents into the flour mixture. Stir with a spatula until combined.
Spoon in the strawberries and fold them into the batter.
Pour the batter into the mini bread pans until 3/4 of the way full.
Prepare the topping by placing all of the ingredients in a bowl and use a pastry knife or your hands to combine until the butter turns into pea-sized chunks.
Sprinkle the topping over the bread and place the mini loaves on a sheet pan.
Bake for 40 to 45 minutes or until a toothpick comes out clean.
Stahlbush Island Farms http://www.stahlbush.com/