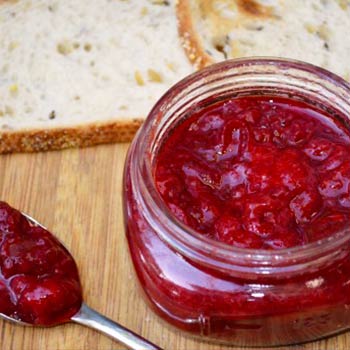 Strawberry Honey Freezer Jam
2016-01-05 18:15:43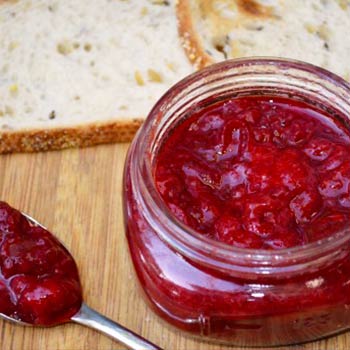 It is such a rewarding feeling to make jams and jellies from wonderful, healthy fruit. Most of us don't have time to go pick, clean and process fresh fruit, but we love that homemade freezer jam. Use our Stahlbush berries year round. Just thaw them, and make your favorite jam or jelly. We will do the heavy lifting. Our fruit is ready-to-use!
Ingredients
3 bags Stahlbush Island Farms strawberries
1 cup shredded Granny Smith Apple
1/2 teaspoon freshly squeezed lemon juice
3/4 cup good honey
Kitchen Tools
4 8oz mason jars with screw tops
Funnel
Instructions
Pour Stahlbush Strawberries into a bowl and let thaw, about 2 hours.
Once they are thawed, drain slightly and use a potato masher to crush them. Be gentle. You want to make sure that there are still little chunks of strawberries.
Use a food processor or potato peeler to shred the apple, skin and all.
Place all the ingredients in a large pot or dutch oven and stir to combine.
Heat on medium high heat until the jam reaches a full boil, stirring constantly. Skim off the foam as it gathers.
Lower the heat and simmer for about 20 - 25 minutes or until the jam thickens.
Fit the mason jars with a funnel. Ladle the jam into the jars leaving 1/2 inch of room from the top.
Screw bands tightly.
Let it stand at room temperature for 24 hours.
Store in the freezer until ready to use for up to one year.
Notes
Chef's Tip: Check that your jam has jelled by placing a spoonful on a plate that has been in the freezer. If it stays in place, your jam is ready!
Stahlbush Island Farms http://www.stahlbush.com/