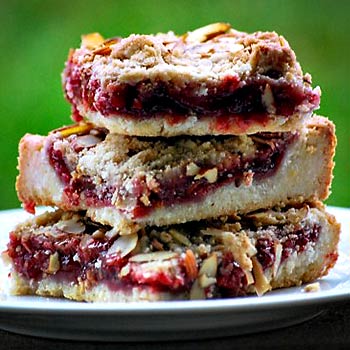 Strawberry Crumble Squares
2016-01-05 18:08:36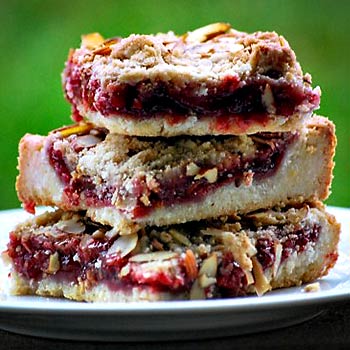 A perfect recipe for leftover jam! We used our strawberry rosemary jam for this recipe. These little bars are a perfect treat for breakfast or dessert.
Base
13 tablespoons butter (about 1 1/2 sticks), at room temperature
2 cups all purpose flour
1 teaspoon pure vanilla extract
1/2 cup sugar
1/2 teaspoon salt
2- 8oz jars of Stahlbush's Strawberry Rosemary Jam
Topping
1/4 cup rolled oats
1/4 cup all purpose flour
1/4 cup brown sugar
3 tablespoons butter
1/4 cup sliced almonds
Base
Preheat oven to 350ºF.
Whisk together the flour and salt and set aside.
Cream the butter and sugar with an electric mixer.
Add the vanilla and beat until combined.
Slowly add the flour. Dough will be loose.
Pour about 2/3 of the dough in a square pan.
Pat it down on the bottom and up the sides, should be 1/4 inch thick.
Top with jam.
Spread evenly along the bottom.
Topping
Combine the rolled oats, flour, and sugar.
Cut in the butter using a pastry knife or your fingers.
Add the remaining dough to this mixture.
Press tiny clumps together with your fingers. Place on top of the jam until covered.
Top with sliced almonds.
Bake for 45 minutes.
Stahlbush Island Farms http://www.stahlbush.com/