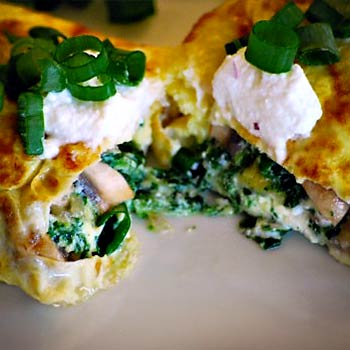 Spinach Ricotta Cheddar Omelet
2016-01-05 17:45:51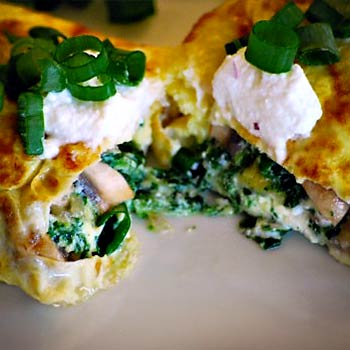 A delicious and wholesome start to your day or a great 'breakfast for dinner' option. This iron packed omelet is a crowd pleaser at any meal.
Ingredients
2 Eggs
1-2 Tablespoons milk
1/2 Bag Stahlbush Island Farm's Frozen Spinach
1/4 Cup diced yellow onion
1/4 Cup diced mushrooms
1/4 Cup ricotta cheese
1/4 Cup shredded cheddar cheese
2 Stalks fresh scallions, diced
Butter for sauteing
Salt and pepper to taste
Instructions
Saute onions and mushrooms in butter prior to starting omelet.
Saute until onions are glassy and mushrooms are browned at the edges. Set aside in a small bowl.
Microwave about a 1/2 of a bag of Stahlbush Island Farms Frozen Spinach following directions on the back of the package.
Once heated, drain all excess fluid and stir in the ricotta and shredded cheddar cheese. Set aside.
On medium heat, melt a second dab of butter in saute pan.
As pan is heating, whisk eggs, milk, salt, and pepper in a separate bowl. Allow butter to brown slightly before pouring omelet base into pan (pan should sizzle slightly when egg mixture is added). Be certain that egg distributes evenly to all sides.
Once egg begins to form air pockets, spoon spinach ricotta mix and mushroom and onion mix into the center of omelet.
Fold the omelet in half and transfer to plate.
Garnish with diced scallions and salt and pepper to taste.
Stahlbush Island Farms http://www.stahlbush.com/