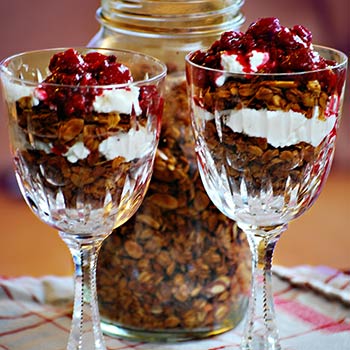 Pumpkin Granola with Raspberry Sauce
2016-01-05 17:34:34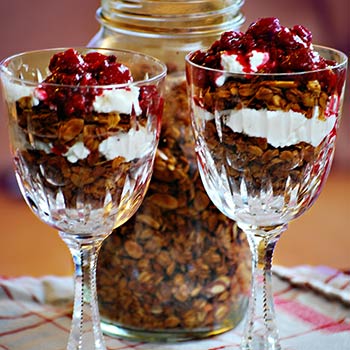 I love making granola! It's a great way to clean out the pantry because any type of nut will work. Cooking granola also makes the whole house smell divine. And the best part is that this recipe will keep you in granola for weeks!
Granola
1/4 cup Farmer's Market Pumpkin Pie Mix
4 cups rolled oats
1/2 cup slivered almonds
3/4 cup vegetable oil
1/3 cup local honey
Sauce
1 bag Stahlbush Island Farms Red Raspberries
1/3 cup sugar
2 teaspoons cornstarch
1/2 lemon
1 teaspoon lemon zest
Granola
Preheat oven to 350ºF.
In a medium bowl mix together the vegetable oil, honey, and pumpkin pie mix.
In a separate bowl, mix together the rolled oats and almonds.
Pour the liquid mixture slowly into the oats mixture while stirring.
Stir until combined.
Pour granola onto a baking sheet.
Bake for 40 minutes.
Toss twice to ensure that the granola is evenly browned.
Let cool for 30 minutes before placing it in an airtight container.
Sauce
In a small saucepan combine 1 cup red raspberries, cornstarch, sugar, and lemon zest.
Bring to a boil then reduce heat, stirring occasionally until sauce thickens.
Transfer sauce into a glass dish and toss in the remaining red raspberries, stirring gently.
Store in the refrigerator.
Notes
Serve sauce with granola and cottage cheese or yogurt.
Stahlbush Island Farms http://www.stahlbush.com/