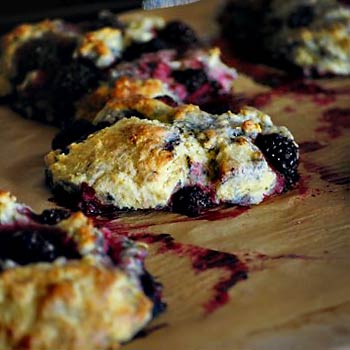 Marionberry Scones
2016-01-05 17:26:09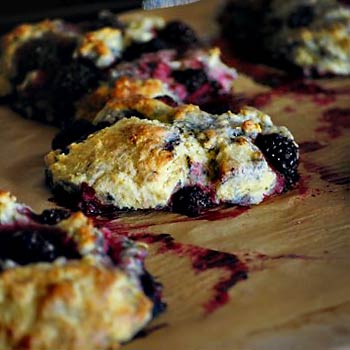 Need a Monday morning/afternoon/evening pick-me-up? Try these deliciously simple Stahlbush Marion Blackberry Scones.
Ingredients
1 bag Stahlbush Island Farms Marion Blackberries
2 cups all-purpose flour
1/4 cup sugar, plus 1 tablespoon for the topping
1 tablespoon baking powder
1/2 teaspoon salt
6 tablespoons cold unsalted butter, cut into 1/2-inch pieces
2 eggs
1/2 cup half & half
1 teaspoon almond extract
Instructions
Preheat oven to 425ºF.
Sift flour, sugar, baking powder and salt.
Cut in the butter, until the mixture looks like meal.
Mix in the Marion blackberries.
In a separate bowl, combine the eggs, half & half and almond extract.
Stir into the flour mixture just until evenly moistened.
Turn the dough out onto a lightly floured surface and gently form it into a ball.
Pat the ball into a circle about 1/2 inch thick.
Use a biscuit cutter and cut out scones.
Place the wedges 1 inch apart on the baking pan, lined with parchment paper.
Brush with a tablespoon of sugar on top.
Bake until golden brown, about 15 minutes.
Stahlbush Island Farms http://www.stahlbush.com/