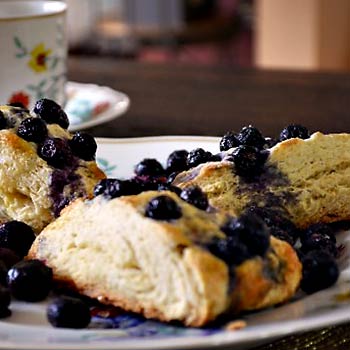 Blueberry & Buttermilk Scones
2016-01-05 14:22:42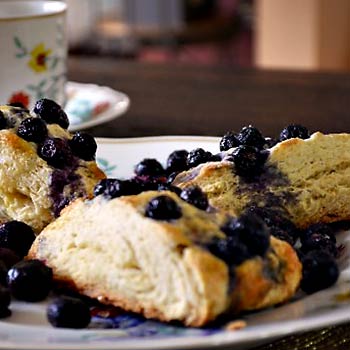 Ingredients
1 1/2 cups all-purpose flour
1/2 cup cake flour
3 tablespoons granulated sugar
2 1/2 teaspoons baking powder
3/4 teaspoon salt
1 stick cold unsalted butter, cut into small pieces
1 cup Stahlbush Island Farms Blueberries
1/2 cup low-fat buttermilk
1 large egg, plus 1 large egg lightly beaten for egg wash
1/2 teaspoon pure vanilla extract
Sugar, for sprinkling
Instructions
Preheat oven to 375 degrees.
Line a baking sheet with parchment paper.
Whisk together flours, granulated sugar, baking powder, and salt in a large bowl.
Cut in butter with a pastry cutter, or rub in with your fingers, until mixture has the texture of coarse meal.
Stir in blueberries.
Whisk together buttermilk, 1 egg, and the vanilla.
Drizzle over flour mixture, and stir lightly with your fingers or a fork until dough comes together.
Gently knead dough once or twice just to incorporate flour.
Pat dough into a 1-inch-thick round. Cut into 12 wedges.
Transfer to prepared baking sheet.
Brush with egg wash, and sprinkle with sanding sugar.
Bake until golden brown and cooked through, about 22 minutes.
Stahlbush Island Farms http://www.stahlbush.com/