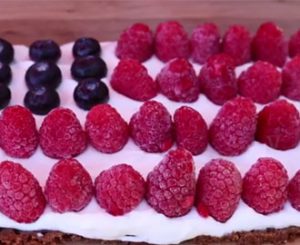 Blueberry Raspberry Tart
2017-07-04 17:28:11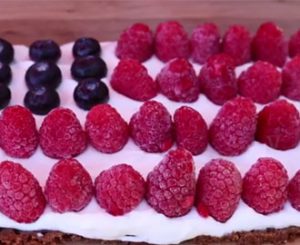 With roughly 30 minutes of total time needed and only 7 ingredients, there is absolutely no reason why you shouldn't give this recipe a try. It is extremely simple, gluten free, and fun to decorate! If you have kids around, they'll likely see you placing fruit on top of a cloud of whipped topping and want to help out. We went with an American flag design, but feel free to take some creative license and make your own designs. You can also substitute the frozen raspberries for halved Stahlbush frozen Strawberries. Watch how easy it is to make this patriotic recipe!
8 Tbsp. Unsalted Butter
1/2 C. Sugar
1 C. Almond Flour
1 C. Heavy Whipping Cream
2 Tbsp. Sugar
1 (10 oz.) package Stahlbush Island Farms Blueberries
2 (10 oz.) packages Stahlbush Island Farms Red Raspberries
Preheat oven to 350F.
In a large bowl combine the butter and the sugar.
Mix in the almond flour and stir until completely combined.
Press mixture into a foil or parchment-lined 9x13 baking pan.
Bake for 15 minutes.
Meanwhile make the whipping cream.
Mix the whipping cream and the sugar until stiff peaks form.
Remove the pan from the oven and cut off the ends to form a smooth rectangle.
Spread the tart with whipped cream.
Decorate with blueberries and raspberries.
Stahlbush Island Farms http://www.stahlbush.com/