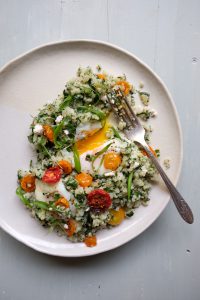 Baked Eggs and Herbed Cauliflower Rice Skillet with Oven Roasted Tomatoes
2017-09-07 15:53:54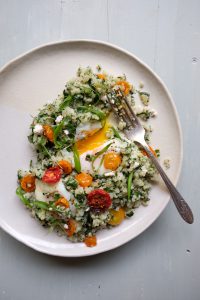 Alison Wu developed this amazing recipe featuring our Riced Cauliflower
1 pint sun gold or cherry tomatoes
1 Tablespoon avocado oil
Salt + pepper, to taste
2 bags Stahlbush Island Farms Riced Cauliflower
2 Tablespoons avocado oil
1 teaspoon salt
1/2 teaspoon black pepper
1/3 cup fresh dill, finely chopped
1/3 cup fresh Italian parsley, finely chopped
1/3 cup fresh cilantro, finely chopped
6 pastured eggs
3 scallions (green part only), cut thinly on bias
Almond milk ricotta or any other crumbly cheese you like
Radish sprouts
Preheat oven to 250°.
Halve tomatoes, toss in oil, salt and pepper.
On a rimmed baking sheet, spread the tomatoes with the seeds facing up.
Roast in the oven for 90-115 minutes.
Tomatoes should be shriveled a bit and slightly golden in some areas.
Once they're done, remove from oven and set aside.
Preheat oven to 350°.
In a heavy-bottomed skillet that is oven safe, heat 2 Tablespoons oil over medium heat.
Add riced cauliflower and sauté for 2-3 minutes stirring occasionally until cauliflower is mostly unfrozen.
Cover pan with a lid and let cauliflower steam for another 3-5 minutes or until tender but not mushy.
While cauliflower is cooking, prep the herbs.
Once cauliflower is done, remove lid from pan, turn heat to low and throughly mix in the herbs, salt and pepper.
Spread the cauliflower mixture so it's even in the pan.
Turn heat off.
Create 6 holes and drizzle a bit of oil in each one.
Crack one egg into each hole.
Bake skillet in the preheated oven for 10-13 minutes or until egg whites are set.
Remove skillet from oven, top with roasted tomatoes and desired garnishes.
Serve immediately.
Adapted from WuHaus
Stahlbush Island Farms http://www.stahlbush.com/