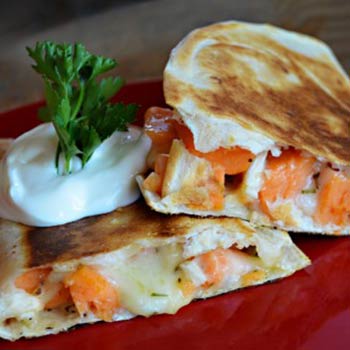 Sweet Potato & Warm Brie Quesadilla
2015-12-03 14:02:37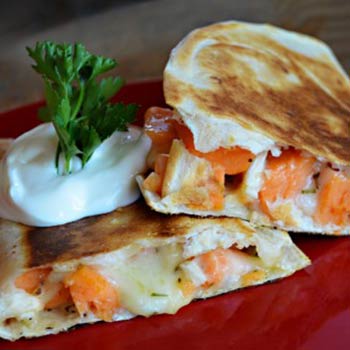 Sweet potatoes and melted brie are a match made in heaven. Stahlbush Island Farms frozen sweet potatoes take all of the work out of preparing this amazing little meal. Enjoy!
Ingredients
1 cup Stahlbush Island Farms sweet potatoes
10 thin slices of good brie cheese, about 0.3 lbs worth
2 large flour tortillas
1/4 tsp. dried rosemary
salt and pepper to taste
sour cream for garnish
Instructions
Cook the sweet potatoes according to package directions.
Place one tortilla in a saute pan on medium heat.
Add three slices of brie to one half of the tortilla.
Top with half of the sweet potatoes.
Sprinkle 1/8 tsp. of dried rosemary on top along with desired salt and pepper.
Top with two more slices of brie and fold the other half of the tortilla on top.
Let cook for about 3-4 minutes or until the brie starts to melt.
Gingerly flip the tortilla and cook for another 2-3 minutes on the other side or until the brie is completely melted and tortilla is stiff.
Serve with a dollop of sour cream.
Repeat the process.
Notes
Makes 2 quesadillas.
Stahlbush Island Farms http://www.stahlbush.com/