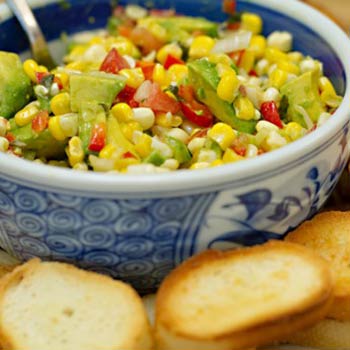 Super Sweet Corn Bruschetta
2015-12-03 13:55:38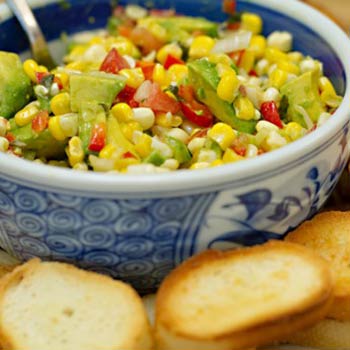 This light summer-inspired appetizer is a sweet diversion from the classic bruschetta recipe. It's quick, easy and a definite crowd pleaser. Recipe courtesy of Brooke Parsons.
Ingredients
1 (10oz.) bag of Stahlbush Island Farms Super Sweet Corn
1 (10 oz.) bag of white super sweet corn
1 tablespoon basil, thinly sliced
1 avocado, chopped
1 tomato, chopped
1 red bell pepper, chopped
1 white onion, chopped
Dressing
1 garlic clove, minced
1 tablespoon apple cider vinegar
1 tablespoon olive oil
salt and pepper to taste
Instructions
Heat the corn according to package directions and let cool completely.
Combine corn, basil, avocado, tomato, red bell pepper and white onion in a large bowl.
In a smaller bowl, combine all of the dressing ingredients and whisk to combine.
Pour the dressing over the corn mixture and toss to combine.
Serve over toasted bread slices.
Stahlbush Island Farms http://www.stahlbush.com/