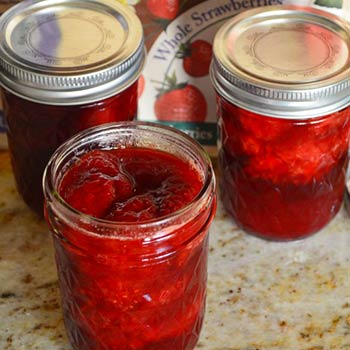 Strawberry Rosemary Jam
2015-12-03 13:13:54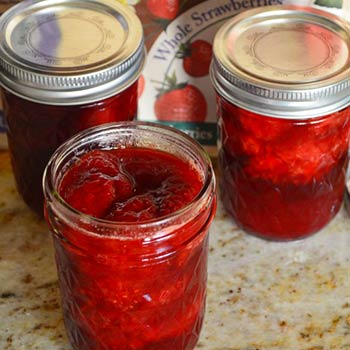 There is nothing quite as delicious as homemade strawberry jam. This recipe is delightfully easy and has a subtle rosemary flavor.
Ingredients
3 bags Stahlbush Island Farms Whole Strawberries
2 cups sugar
1/2 lemon, squeezed
1 tablespoon fresh rosemary leaves
Instructions
In a food processor, combine one cup sugar and rosemary leaves. Pulse until rosemary is chopped and combined with sugar. Remove and set aside.
Pour 1/2 the contents of one bag of Stahlbush Island Farms Whole Strawberries into the food processor and pulse until pureed. This step will help reduce foam.
Add all of the contents to a non-reactive pot and bring to a boil.
Reduce heat to low and continue to cook for about 20 minutes, stirring constantly.
Remove any foam from the surface with a spoon. The jam is done when a small amount of juice gels on a very cold plate.
Pour into 8 oz mason jars with screw top lids.
Serve immediately.
Stahlbush Island Farms http://www.stahlbush.com/