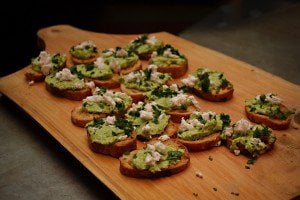 Green Garbanzo Crostini
2016-06-23 09:18:47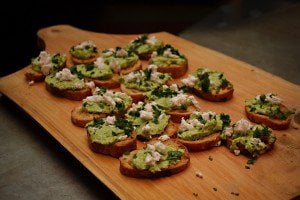 A delicious, light appetizer created by Scott Dolich, owner of Portland's The Bent Brick
2 cups Stahlbush green garbanzo beans, prepared according to packaging instructions
1 teaspoon lemon juice
5 roasted garlic cloves
1 teaspoon cold water
1 teaspoon salt
1 pinch dry thyme
1/4 cup olive oil
Toasted artisan bread
Feta cheese and parsley to garnish
Put all ingredients except olive oil into a Cuisine Art food processor.
While chopping the mixture in the food processor, slowly add the olive oil to form emulsion.
Add salt and pepper to taste.
Spread this mixture onto toasted bread or crackers with a small amount of feta crumbles or shaved Parmesan cheese on top.
Stahlbush Island Farms http://www.stahlbush.com/