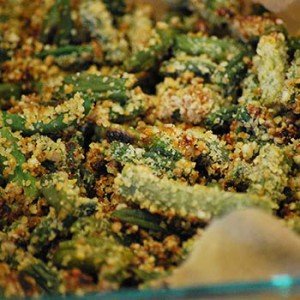 Crunchy Green Beans
2015-12-01 13:20:18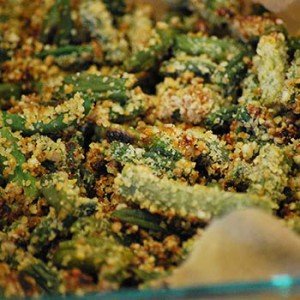 Crunchy coating without the use of breadcrumbs, this recipe is an amazing snack or appetizer. The recipe is gluten & dairy free. Recipe courtesy of Josh Snyder.
Ingredients
1 bag Stahlbush Green Beans, defrosted
1/4 cup pumpkin seeds
1/4 cup raw cashews
1/4 cup raw sunflower seeds
1/4 cup nutritional yeast
1 teaspoon smoked paprika
1 teaspoon garlic powder
1/4 cup agave syrup
1/4 cup almond milk
Instructions
Dump pumpkin seeds, cashews, sunflower seeds, nutritional yeast, paprika, and garlic powder in a food processor until it turns to powder.
Combine the agave and almond milk in a small bowl.
Dip green beans in wet and then dry mixture.
Bake in a single layer on a baking sheet at 425ºF for 15-20 minutes.
Serve immediately.
Stahlbush Island Farms http://www.stahlbush.com/