New Packaging is Here!
Early morning, before starting work on the farm, Karla Chambers wakes up, makes a cup of coffee and sits down to paint. She is inspired by the comforting mountain views and multicolored fields found on family-owned Stahlbush Island Farms. The Chambers Family believes that certified organic and sustainable farming is an art and a science, and they want this reflected in their products.
Stahlbush began featuring Karla's paintings on the products' packaging in 2013. Now, we are excited to announce that the entire line of 30 frozen fruits and vegetables will receive a makeover and new packaging will be released throughout the year.
Like many farmers, Karla works from dawn to dusk. She began painting seven years ago and has already had three gallery shows, two museum shows and produced 185 original paintings – bringing the same energy that she puts into farming to painting. Karla created 11 new pieces using broad strokes to embody the movement of the ever-changing Oregon skies and the vibrant vegetation found in the fertile Willamette Valley soils. The inspiration for the pieces was entirely place-based: influenced by views of Mary's Peak, Mount Jefferson, Mount Hood and the lush greenery that result in bountiful harvests. According to Karla, "When you open the Stahlbush bag, you open a bit of our home here in the beautiful Willamette Valley."
Stahlbush products are pioneering fruits and vegetables in the United States with fine art represented on the packaging because, as Karla stated, "in the tradition of fine wine, Stahlbush fruits and vegetables packaging reflects a high standard of quality."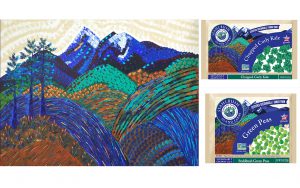 Here, Blue Harvest is an example of how Karla's new paintings are incorporated into the packaging.
At Stahlbush, we grow and freeze the most delicious fruits, vegetables, grains and legumes. Our certified sustainable, family farm is located in Oregon's lush Willamette Valley. Our owners, Bill and Karla Chambers, started with 2 crops, 352 acres and a dream in 1985. Today, Stahlbush cultivates 5,000 acres in Oregon and offers the highest quality, certified sustainable and organic products available.