New Product: Stahlbush Cauliflower Crumbles
It's time to talk about an underrated vegetable: Stahlbush cauliflower. While we are all about filling your plate with color here at Stahlbush Island Farms, we believe that this pale vegetable also deserves some attention. We're willing to look past the unassuming exterior in exchange for the versatility, nutritional value and usefulness of cauliflower.
You can mash, puree and sauté your way to low-carb meals with Stahlbush Cauliflower Crumbles.

While carbs are not necessarily negative, many of us find that we have a desire to reduce our daily intake of starches and wheat. This month, Stahlbush is releasing a new product to help you do just that: cauliflower crumbles!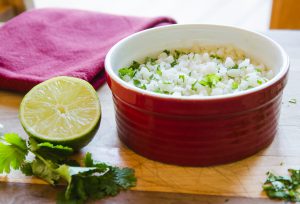 Turn our crumbles into low-carb rice, pizza crust, hummus, pancakes, burrito bowls and more. You can thicken soup and replace cheese. Scramble it with eggs, create a burger patty or add it to a cake – seriously! We could create a longer list, but the point is that this vegetable can do a lot. Whether you are paleo, gluten-free, vegan or simply a creative chef, cauliflower is an easy way to sneak another serving of vegetables into your daily routine – who doesn't want that?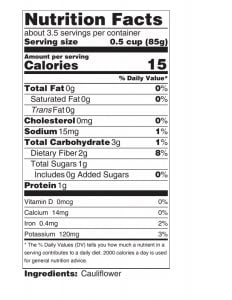 One serving of Stahlbush Cauliflower Crumbles has a gram of protein, no fat, no cholesterol, just 3 grams of carbohydrates and only 15 calories.
The best part: each piece of cauliflower is cooked, cut into small pieces and individually quick frozen. So, all you have to do is heat it up.
Heating instructions
Stovetop: Sauté frozen cauliflower crumbles in up to 1 Tbsp. of olive oil or your oil of choice. Cover; stem for about 3-5 minutes or until tender. Season to taste.
Microwave: Place frozen cauliflower into a covered microwave-safe dish. Cook on high for 3 to 4 minutes. Microwave heating times may vary. Drain and season to taste.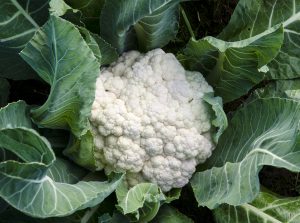 Cauliflower is often over-looked because it is seen as bland or tasteless. These days, produce is often picked early and transported hundreds of miles as they ripen in a truck. All of our fruits and vegetables are grown and processed in the United States allowing us to harvest our produce at the peak of ripeness and process them within 24-hours. Our cauliflower crumble isn't a tasteless filler, it's a flavorful nutrient-rich addition to any meal!
Be sure to let your local store know that you want them to stock this product! Find a store that carries our products here.
Follow us on social media for recipes and updates from the farm: